Students excel in National Spanish Examinations
Janelle Medrano, Reporter
May 12, 2015
Hang on for a minute...we're trying to find some more stories you might like.
Thirty-six students participated in the National Spanish Examinations (NSE) based on the corresponding level of Spanish. Eighteen students scored so well that they were recognized with  awards of gold, silver, bronze or honorable mention.
The NSE is an online standardized test for students in grades six to 12. More than 38,000 teachers across the nation administer these tests to measure their students' proficiency and achievement in the Spanish language.
Spanish teacher Sean Rist said, "The examinations can be used as a motivational competition for students as well as for assessment purposes. It's a great opportunity to gauge where students stand on the national level. It is also a competition for which students can win monetary prizes."
Junior Nikaela Busekrus from AP Spanish and freshman Celine Arnobit from Spanish II Honors received the gold award, scoring above the 95th percentile in the nation. Sophomore Faizah Shyanguya also in Spanish II Honors and freshman Taylor Mckenzie in Spanish I won the silver award, scoring from the 85th through the 94th percentiles.
Arnobit said, "I really enjoy learning the Spanish language and getting to know the different Spanish cultures in various countries. This test helped me to expand my knowledge of Spanish vocabulary."
.Spanish I students, junior Madeline Dezee and freshman Danelle Vicencio, and Spanish II Honors students, sophomore Hudson Jones and freshman Dorothy Sanidad, scored between the 75th and 84th percentiles, earning the bronze award.
Ten students won honorable mention, scoring from the 50th through the 74th percentiles. Freshmen Rochell Agapay, Claire Lamphear and sophomore Joanne Nicole Villanueva in Spanish I; freshmen Megan Mattison, Lilia Nicole Torres and sophomore Shelly Anne Aquino in Spanish II Honors; sophomores Janelle Lauronal and Chloe Ponimoi and juniors Janette Bow-Keola and Janelle Medrano in Spanish III Honors received the awards
About the Writer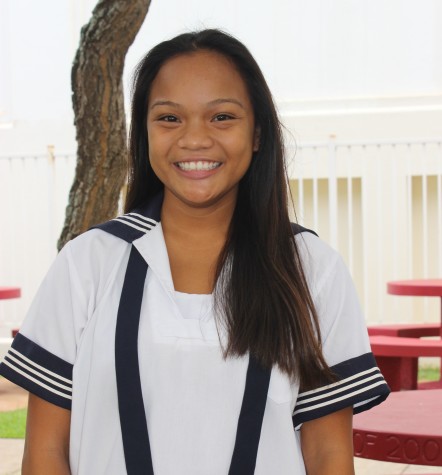 Janelle Medrano, Editor-in-Chief
Janelle Medrano is a senior and a third-year member of the Ka Leo staff. She enjoys dancing, hiking, snorkeling, and pogo-sticking. In her free time, Janelle...