Two students win scholarships to study in China
Janelle Medrano, Reporter
May 7, 2015
Hang on for a minute...we're trying to find some more stories you might like.
Senior Victoria Lee and junior Theresa Ginter will spend six weeks studying in China this summer with the National Security Language Initiative for Youth (NSLI-Y).
Sponsored by the U.S. Department of State, NSLI-Y is a program that awards merit-based scholarships for high school students. The NSLI-Y scholarship selection process is highly competitive. Applicants are selected based on academic standing, teacher recommendations, language assessments, four essays and interviews with NSLI-Y.
Lee said, "I applied for this program because I wanted to deepen my knowledge and education of the Chinese language and culture. What best way to study a foreign language than to study in its mother country? Also, from my five years of learning Chinese, I developed a love and interest in languages, especially in Chinese."
Ginter, too, applied for this scholarship because she knew that it would be a great opportunity to practice a language that she has been studying for the past three years.
Ginter said, "In the future, I hope to work in international relations, specifically in East Asia, and being able to speak Chinese, the world's most spoken language, would definitely give me an advantage in this type of field. If I'm able to become even somewhat trilingual, I think this would greatly benefit me in the line of work that I want to do. Plus, the program is a free six-week trip to China where I get to study and enjoy everything Chinese."
Participants will be completely immersed in the Chinese language with three to four hour Chinese classes in the morning from Monday to Friday and a cultural enhancement activity in the early afternoon.
Lee said, "For the rest of the day, we will spend time with our host family and friends. We could spend our free time exploring the city and learning new activities. We will also participate in community service in the host city."
During the week, participants will visit a variety of local museums, parks, businesses and other establishments as part of the cultural program. They generally spend weekends with their host families, participating in various activities that include learning songs through karaoke and playing sports.
Lee and Ginter hope to improve their fluency in the Chinese language and gain more knowledge of the life experiences of the Chinese people and their culture.
Ginter said, "China is a country with such a rich history that has influenced so many cultures around the world. I'm excited to see 'where it all started' and the authentic things in China, not the Americanized Chinese culture have here. I'm also very excited to taste their popular bubble tea."
About the Writer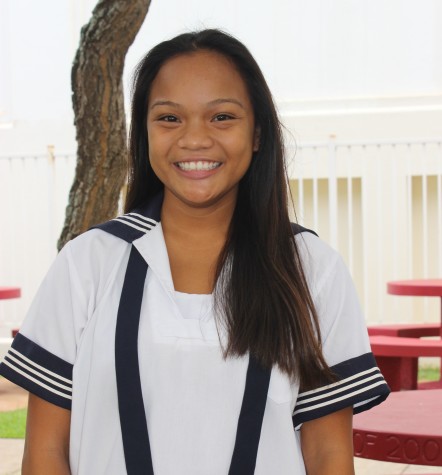 Janelle Medrano, Editor-in-Chief
Janelle Medrano is a senior and a third-year member of the Ka Leo staff. She enjoys dancing, hiking, snorkeling, and pogo-sticking. In her free time, Janelle...