Annual FAST promotes women's empowerment
Janelle Medrano, Editor
February 23, 2015
Hang on for a minute...we're trying to find some more stories you might like.
The FAST for a Better Tomorrow, annually sponsored by the Junior Class, invites students in grades nine to 12 to help the needy on the local and global levels.
Sixteen juniors serve as volunteer leaders under the guidance of Sr. Katherine Francis Miller and Sr. Irene Barboza. Juniors Nikaela Busekrus and Shannon Domingsil are this year's student coordinators.
Domingsil said, "As a group, we brainstormed about the many problems that we face in our lives and in our society. We narrowed the topics by seeing if they are directly related to others and we eventually put all of our ideas together to create the theme of 'Empowering Women' and created the acronym of 'Forever As Sisters Together' for FAST. We want to emphasize the importance of embracing oneself and helping to empower each other."
Theology teachers and student leaders have scheduled activities, including guest speakers from Waikiki Youth Outreach (YO) and preparing clothing, hygiene, first aid and food kits for local agencies and shelters that provide assistance to teenagers living on the streets.
At the FAST, students separate into groups and discuss issues concerning the effects of social media on beauty ideals, the effects of language and actions on relationships and what students can do to become empowered women. Between sessions, students will participate in energizers led by leaders.
Busekrus said, "We've been planning the FAST for several weeks and I'm really looking forward to the representatives from Waikiki YO coming to speak to us. We also want to break down barriers that keep us from uniting as sisters and issues we need to work on to help our sisters around the world."
Participants are asked to donate 10 dollars and two canned goods for YO. Each participant earns five hours of service learning credit for theology class.
The FAST will be held in the auditorium from 3:30 to 8:30 p.m. on Feb. 27. Students who want to participate should contact the Campus Ministry Office or the Theology Department for more information.
About the Writer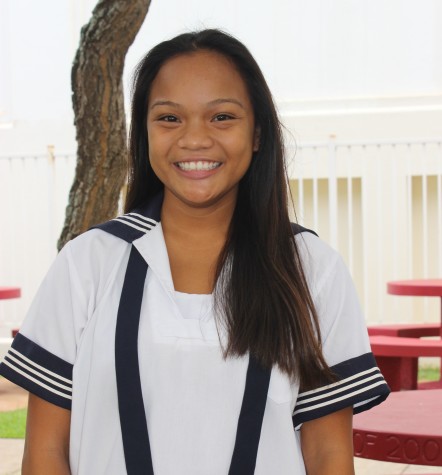 Janelle Medrano, Editor-in-Chief
Janelle Medrano is a senior and a third-year member of the Ka Leo staff. She enjoys dancing, hiking, snorkeling, and pogo-sticking. In her free time, Janelle...