Foreign exchange seniors face big decisions
With senior year coming to an end and graduation coming up, seniors have started to accept offers from colleges and prepare for the next step in their life journey. For foreign exchange students at Sacred Hearts Academy, their decision is much different compared to students from America. In broadening their education, they are faced with the decision to stay in America or go back to their home country.
Senior Moka Ushijama plans to stay in the states for college to broaden her education.  
"Japan is too strict for me," she said. "People here are so nice and friendly. Going back to Japan would be much harder than staying here since I would have to relearn writing Japanese." 
"I'm planning to go to New York after graduation," Ushijama said. "I will major in fashion design." 
Senior Ria Nagashima plans to go back home for college to broaden her education. 
"Japan is very important to me since I grew up there," Nagashina said. "I miss my family and friends."
"After graduation, I am planning to go back to Japan," Nagashima said. "I will be attending college in Japan." 
The Academy has been a great influence on foreign exchange students in terms of where they want to attend college and what they want to major in. They are thankful for the experience and opportunity they had at the Academy and in Hawaii.
Nagashima cherishes many of the school events at the Academy. 
"All of the school events that we had were new for me," she said. "Spirit week was special for me because in Japan, we don't have that." 
Ushijama enjoyed her time spent here trying out new things. 
"I had a wonderful time here. I learned how to surf, how to speak English and (more about the) Hawaiian culture," she said. I also joined cheerleading my first year at the Academy, and it was a great experience."
"I'm so thankful to my parents that I could have the opportunity and experience," Ushijama said.
View Comments (2)
About the Contributor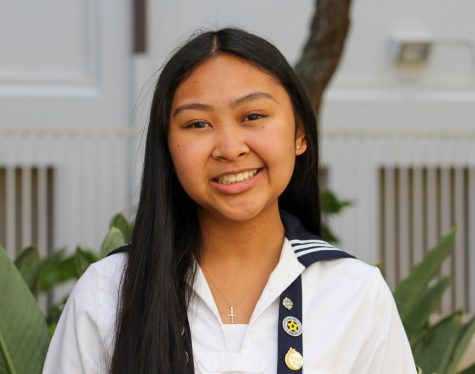 Ava Damo, Reporter
Ava is a first-year journalism student and a senior at the Academy. She hopes to express her interests and improve her writing skills through stories....