Alumna takes to the field: Ins and outs of running the NFL TikTok
Former Sacred Hearts Academy graduate Shannon Domingsil never imagined she would be the face behind the National Football League (NFL)'s TikTok account. But after two years of being the organization's social media programmer, the petite 5'0" Filipina from Oahu has done everything from test how well the NFL Rookies can paint team logos to film viral mic'd up videos with the San Francisco 49ers. 
https://www.tiktok.com/@nfl/video/7115476402127785262
"Representation is, and has always been, important to me, so to say that I'm just a lil' Filipina from Hawaii running the account of the NFL on (arguably) the biggest app right now, I can't help but to feel proud of that," said the now 24-year-old. 
Trending in the NFL
As the social media programmer for the NFL, she dedicates her day to making and editing content, looking for the latest trends and working on projects and scripts. On game days, she watches the game and cuts key moments, while on other days, she's out shooting and producing content with players, other creators or celebrities.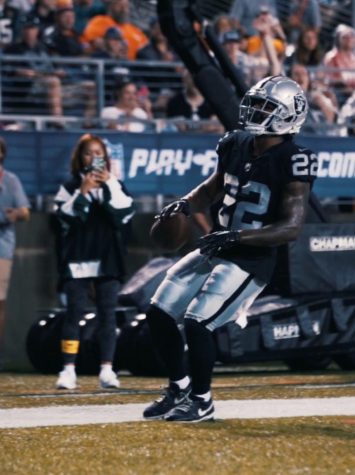 To her surprise, Domingsil did not plan to go into sports nor did she have any sports experience prior to the NFL. 
"My job at the NFL was my first sports job and my first job out of college," she said. "(This) job was just from applying to any job at a company that I liked or felt I…would enjoy. I was a pretty casual football fan before my job here, but now I am, of course, a more avid and informed fan."
Even after two years, Domingsil is still trying to figure out what it takes to make a viral TikTok.
"We make sure to encapsulate all of the fun moments on the field, mic'd up or helmet off content from players and just take part in trends and original content that we hope will do well," Domingsil said. The NFL TikTok account has almost 10 million followers, while its Instagram account has more than 26 million. 
When a player is "mic'd up," a small microphone is attached to their body to pick up commentary said during a game or practice. This audio gives fans a first-person perspective of their emotions on the field. Helmet off segments consist of content made off the field, such as brand shoots and the Rookie Premiere.
One TikTok video, in particular, has more than 6 million views. It featured Brock Purdy from the San Francisco 49ers; Purdy was the first quarterback in NFL history to beat Tom Brady in a first career start. Domingsil's TikToks don't just showcase unforgettable moments and game plays but also funny reactions from NFL players. In a game between the New York Jets and Buffalo Bills, Domingsil made a funny video of the Bill's wide receiver, Isaiah McKenzie, celebrating a defensive jump that worked in their favor. This video also had about 6.2 million views and 303.8 thousand likes. 
https://www.tiktok.com/@nfl/video/7176412246950694186
As of January 2022, TikTok had one billion monthly active users worldwide with a collective 197.8 million hours spent on the viral social media app. Domingsil said that it "doesn't really register that (she and the NFL) have almost 10 million and more eyes on (them) and that that many people see the stuff (she creates). It definitely feels really good when my ideas get responded to well, and just reminds me that I am so good at my job and capable of a lot." 
However, Domingsil added that she feels there's added pressure when she makes an appearance in the actual TikTok video. 
"There usually always is positive feedback, which makes me really happy," she said. 
https://www.tiktok.com/@nfl/video/7161186443333733675
When asked to share what it was like to work with Domingsil, her senior manager Alaa Eewshah said, "Shannon brings a breath of fresh air to the social programming team at the NFL with her creative ideas and passion for what she does. Day in and day out, you can expect a concept that will resonate with fans of the NFL while attracting a new audience at the same time."
Domingsil may not be a player running on the field, but she is described to be an incredible teammate who is "always willing to help at any given moment, brings the best out of everybody and never settles on a concept or idea until it's perfect," Eewshah said.
So far, one of the most memorable moments in her career was working with Cooper Kupp, wide receiver for the Los Angeles Rams, and Kylian Mbappe, forward for the France national football team, this past June. Mbappe, a young up-and-coming soccer player, was only 19 when he won the world cup for France in 2018. 
"He's one of the best soccer players in the world right now, and France is off to the world cup again with Mbappe, so that's a very cool memory for me to say that I've worked with someone who is so internationally known," she said.
As easy as it may be for one to become starstruck when they're face-to-face with popular celebrities, Domingsil does not lose focus when she's around players. 
She says, "Honestly, I am not a person who gets nervous when speaking to or working with those of celebrity status. They truly are just people. My first time ever working with NFL players…was at the 2021 Pro Bowl. It was great and felt really cool to do, especially because I started (working there) during COVID, so it was my first time doing anything in person for the job."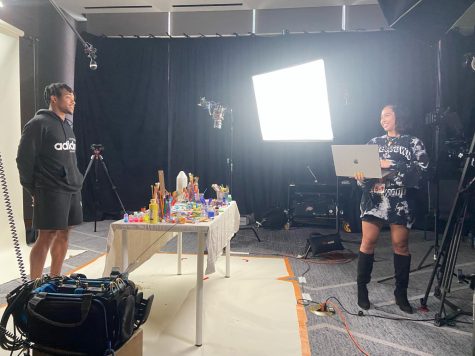 Paving a road to success
From a young age, Domingsil has always been known for her outgoing and confident aura that radiated everywhere she went. According to one of Domingsil's previous counselors, Annaliza Miyashiro, "Shannon is very friendly and open. One thing about her is that she is friends with everyone. She hung out with girls in different (social) groups and her confidence is through the roof and undeniable." 
Domingsil majored in News & Documentary at Chapman University, followed by internships that led her to her position at the NFL at the age of 22. Domingsil completed five internships in her last two years of college – Seacrest Studios, CNN, Refinery29, The TODAY Show and E! News – where she gained experience in production and social media. 
She has also always had a passion for being on camera. She performed in multiple musicals for the Academy and Saint Louis School and served as a member of the school's Catholic worship team. She was also an anchor on the school's broadcast program called the Lancers Lately. Additionally, Domingsil served as a yearbook editor and won the honorable Henriette Aymer Award when she graduated from the Academy in 2016. 
Domingsil stated that she had been singing and performing since the age of five, so although the Academy didn't "spark" this interest, it gave her an immense amount of opportunities to continue these passions in different ways. It also taught her to be a leader in any given position. 
"I tell people all the time that I don't think I'd be where I am or experienced the things that I have if I didn't go to Sacred Hearts," she said. "All of the extracurriculars that I did and all of the opportunities the Academy gave me truly shaped me into someone capable of going after the things that I wanted in college."
Taking the next step
Miyashiro was her high school counselor for two years at the Academy. They first met when Domingsil was in the tenth grade. When asked what made Domingsil standout among others, Miyashiro said that Domingsil "exuded this undeniably strong confidence no matter the setting–in the classroom, on the stage, in my office…It didn't matter." 
"Mrs. Miyashiro was actually the first person who ever mentioned broadcasting to me," Domingsil answered, when asked how the Academy influenced her interest in media.
Miyashiro said that she will never forget the moment she came into her office when she figured out what she wanted to do with her life. 
"She came to seek advice, and I told her that I could see her hosting her own talk show one day," she said. "She totally agreed and started to look for schools that would help her reach her goals." 
Just like Domingsil's own family, Miyashiro made it clear that she is so proud of her former student and how excellent of an example she is to young women. 
"I am so proud of all that she has accomplished," she said. "She is the true definition of goals in action, and I will always praise her for her achievements." 
Learning from the world of media
In a pond as big as the NFL, Domingsil has developed her own ways to still make her own impact. As a message to other young women who are considering pursuing a career in media, she says, "Do not be in your own way. You can't be shy or insecure in an industry like this. It's important to speak up and be able to communicate your concerns, goals, and ideas." 
Like everyone else, Domingsil had her own battle with insecurities and difficulties as a nonwhite female pursuing media. 
"It may take a little bit of extra elbow grease and talking and making yourself known, but that's the barrier that I want to push for myself and others," she said.
After hearing from her previous mentors and how she paved her own way to working for the NFL, many agree that Domingsil has displayed a great example of what it means to succeed when one sets his or her mind to something. She may not know where exactly she'll be in 10 years, but what she does know is that "whatever it is…she will get herself there."
View Comments (2)
About the Contributor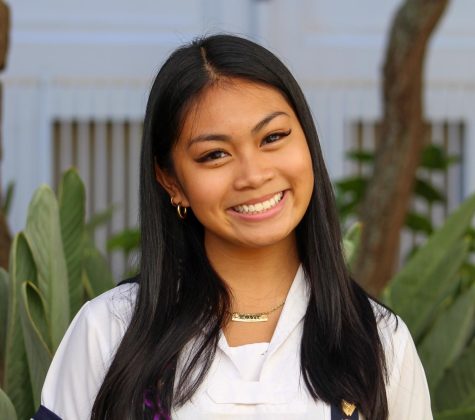 Ember-Joy Guevarra, Reporter
Ember-Joy is a first-year journalism student and senior at the Academy. As a student reporter, she hopes to learn and see new perspectives from her peers,...