Students return to stage with 'Annie Jr.'
This year marks the first time in two years that Sacred Hearts Academy put on its annual fall play. The theater program, which has been impacted by the pandemic, welcomes returning and new talent to Mamiya Theater with the production of "Annie, Jr." 
After the Academy's 2019 production of "Frozen, Jr.", the COVID-19 pandemic struck Hawaii. As a result, the theater program came to a halt, which had an impact on the Academy's actors and their ability to take part in live musicals. 
In 2020, students were given the opportunity to participate in a short Christmas film. Although this was an opportunity for actors to act again, many say it was not the same for them. 
"People weren't as interested because the entire setup was just completely different," sophomore Cocomi Mehring said. "Filming days felt like rehearsal days because there was no audience, no circle time together, no backstage makeup and there were just strict rules."  
Mehring was part of a cast of fourth through 12th grade students from the Academy and Saint Louis School. 
Academy fifth grader Isabella Johnson, who played Annie, and junior Reagan Beissel returned to the stage this year, with "Annie, Jr." It was their first production with the Academy. Sophomores Mehring and Samaya Hogue returned to  production after two years of not being able to participate in an in-person musical. 
Despite their performing on stage prior to the fall production, they say the rebirth of the Academy's theater program is a fresh experience for each of them.
"I was interested in this play because Sacred Hearts hasn't done a show in a long while, and I have always wanted to be involved in the theater department," Beissel said. Beissel first saw the Academy's theater program in action through previous productions at Mamiya Theater.
"I have just always loved performing," Johnson said. "As soon as I could be involved in theater, I was."
Beissel, who played Hannigan, is another new actress. With this production being such a different experience, Beissel has learned a lot along the way. 
"I have learned a lot more about theater than I had already known," Beissel said. "I've learned about how plays are produced through this process." 
Although the two actresses learned a lot and enjoyed their time being in this production, there were challenges that they faced and learned to overcome. A common struggle between the actresses was balancing the show and schoolwork.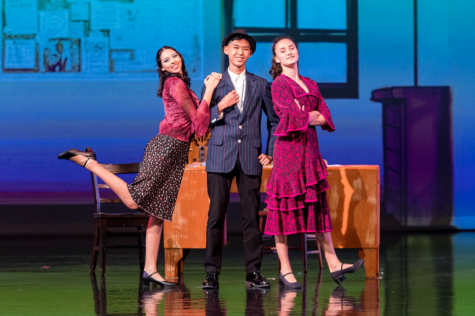 During the pandemic, Mehring and Hogue didn't have a way to express themselves as they would in theater. They focused on themselves more during COVID. When the chance to be in the Academy's Christmas short films became available, they seized the chance to be involved with theater again. 
"Even though it wasn't live, it was a way to express myself," Mehring said. 
This production has restored a sense of normalcy, they said, but this production has also challenged them as actresses. 
"One challenge that I have faced is being a character that I have never done before," Hogue said. 
Building a character was a common struggle for the two sophomores, but Mehring says, "I overcame this by not only reading and memorizing lines but (by) researching how (the character) became a secretary and how she got to the position she's in." 
It was a common obstacle faced by the students participating in the production, but just as Mehring did, they overcame it and prepared themselves to put their characters on the stage. But with this production, the two actresses learned more and also have advice for new actors that joined, especially the younger talent.
"Advice I would give is to know what you're doing and practicing and taking it seriously because it takes a lot more work than what you see on stage, and it's not as easy as you think," Hogue said.
"It was a new experience for everyone, but it was something that brought back that feeling of being able to be on stage and also that feeling of normalcy that existed before the pandemic," Mehring said. "It feels great because, in a way, it feels like how it was before the pandemic." 
View Comments (1)
About the Contributor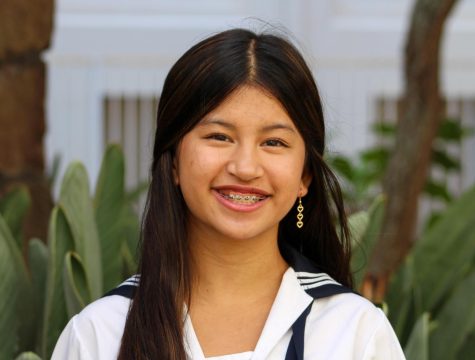 Anna Casupang, Reporter
Anna is a first-year journalism student and a sophomore at the Academy. This year, as a student reporter, she hopes to improve her writing and connect...