Spectacular sailor stories
Sailing is a beautiful, yet underrated, aspect of our community. Whether it is competitive racing, casual cruising or a way of life, there are people in it with a passion so deep that it must be shared. The sailors in our community are some of the most intriguing, passionate and notable people. The unbounded love that they have for the ocean, Hawaii and our oceanic wildlife, paired with the countless hours out on the water, is incredibly inspiring. All of these wonderful aspects allow these sailors to be flowing with stories to tell. Stories of their trials, tribulations and triumphs that are so thrilling, they have become stories in themselves. 
The following sailors are just a few of the amazing people that make up the water sport community here in Hawaii. They represent all aspects of boating, and coming from varying backgrounds, they are all truly inspiring in their own right.
Guy Fleming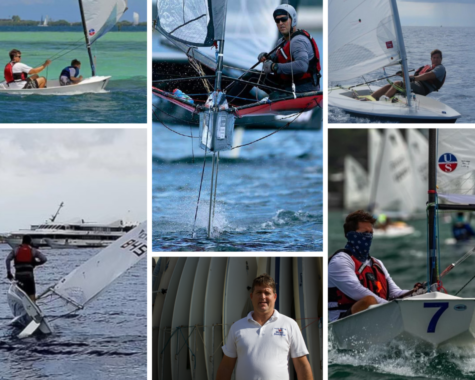 This is Guy Fleming. He is an accomplished sailor, who has been the Sailing Director at Waikiki Yacht Club for the past 37 years. His sailing journey began at the age of 11 when he was introduced to the sport by his childhood friend. He loved sailing so much that he collected cans in order to pay for the lesson fees. Fleming had various coaching jobs in his youth at Rainbow Bay Marina and Pearl Harbor Yacht Club, until he eventually found his home at Waikiki Yacht Club. Fleming raced in college at the University of Hawaii at Manoa, which brought adventure and lifelong friends. He has raced in many events, such as the San Francisco 1989 Nationals, and won many awards, such as the Hawaii State Champion for racing a boat called "Lasers" in 1988. Fleming describes sailing as, a "never-ending challenge that is so satisfying and rewarding." But his love for sailing doesn't end at trophies and titles; it extends to even the smallest details. From light meditative wind to thrilling high speeds, Fleming's love for the ocean is infinite, especially when dolphins, his favorite ocean creatures, are involved. Currently, Fleming loves watching his son advance in his sailing knowledge and can't wait to see what's to come. "You need to keep showing up," he said. "People wait until they are good to start trying, but it doesn't work like that."
Spencer Fleming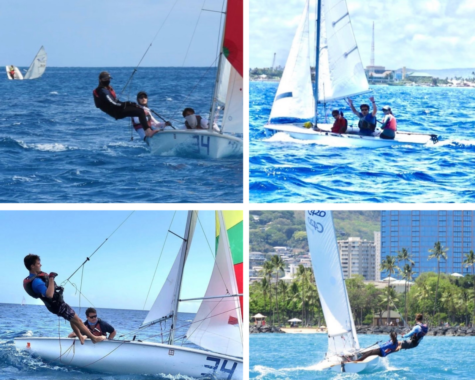 This is Spencer Fleming. He is the son of Guy Fleming and is a 17-year-old junior at Mid-Pacific Institute (MPI). Fleming is also an up-and-coming sailor at Waikiki Yacht Club. Growing up in a sailing family, Fleming was introduced to sailing at the young age of three. Sailing was a really prevalent aspect of his life, even at the ages of one and two. His dad, Guy Fleming, attached a sail to a wheeled cart to push him around in. Fleming is currently a Level 2 certified coach at Waikiki Yacht Club, where he teaches how to sail boats, such as Toppers, 420's, El Toros, Open Skiffs and Lasers. He recently competed in Bemis Nationals and says that he was so proud to see his growth from his first Bemis, with skipper and close friend Maddie, a fellow Waikiki Yacht Club sailor, to now. However, when asked what his favorite aspect of sailing is, Fleming said, "The best thing about sailing is not the medals or awards; it's about being there in real-time and making a personal connection." He also states, "Sailing is a nice way to look at life; it's an escape from the everyday." Fleming loves watching his students learn and grow and says that the knowledge comes "full circle." In the words of Fleming: "Everyone is connected, but for different reasons, it's a unique thing."
Levi Dakota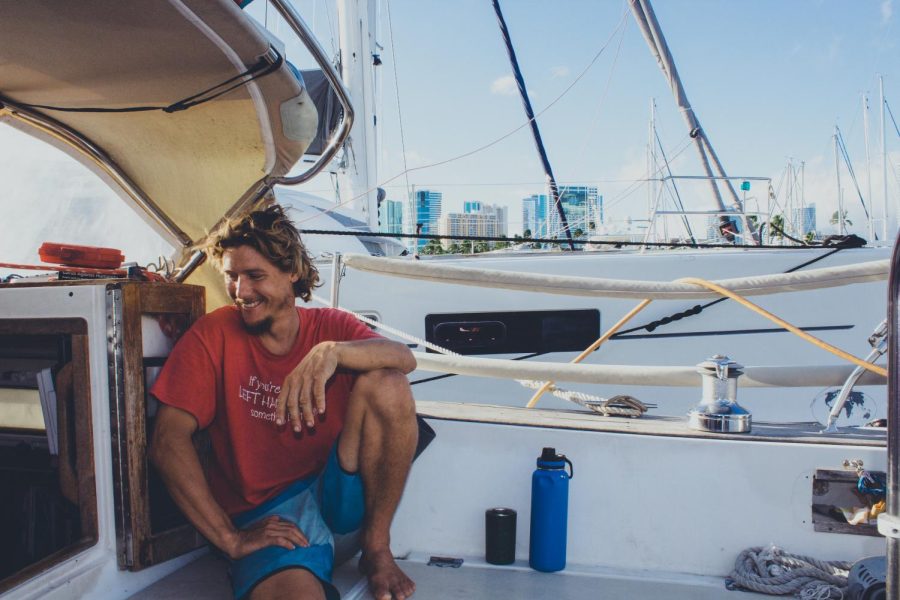 Marley Cusick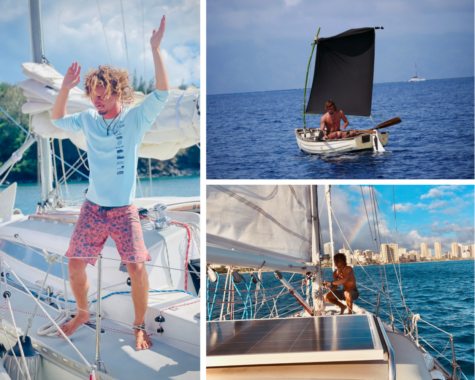 This is Marley Cusick. Cusick is an eccentric and artistic sailor with a passion for adventure. He began sailing at six years old with Hawaii Yacht Club in the Junior Sailing Program. This is the same program that he now serves as director. He began teaching sailing at 15 and says that it is the best job he has ever had. He has had various other sailing-related jobs in his life, including the meditative art of making sails and fixing sail lofts, teaching at a French Resort in the Bahamas, a sailing counselor at a summer camp in Maine and working on tourist charter boats. While working as an assistant coach for Hawaii Yacht Club, he also became coach for the Academy's high school sailing team. Cusick says that through his sailing career, he has experienced the "Highest Highs and the Lowest Lows," and states that "sailing is a controlled chaos that can lead to incredible things." Cusick currently resides on the boat, "Gratatouille," where he sails from island to island, relishing all that the ocean has to offer. "Sailing in the open ocean is like putting yourself directly into the fire and trying to control it," Cusick said.
Juliette Cramer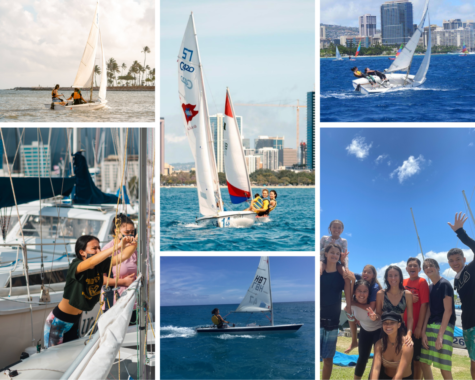 This is Juliette Cramer. Cramer is a student sailor for both the Academy and Hawaii Yacht Club. She started sailing in 2018 for her high school team and with various clubs around the island. Her love for the ocean, along with her father, Micheal Cramers' love for the water sports, sparked her interest in the sport. Sailing quickly became her passion. In 2021, Cramer became a coach for Hawaii Yacht Club's Junior Sailing Program and loves it. "Through coaching kids, I have learned more than I ever would have on my own," Cramer said. The young athlete, being among the few coaches for the youth program, has paved the way for a new generation of young sailors. Cramer says, "The water sport community is my second family." Through hard work, determination and experience, Cramer has grown in her knowledge and confidence. Her most recent adventure is starting to sail large racing boats. When asked about her feelings towards this new challenge, she states, "My time out on the water in bigger racing yachts has been some of the few times that I was able to try new things without judgement, fear and standards; it's been awesome."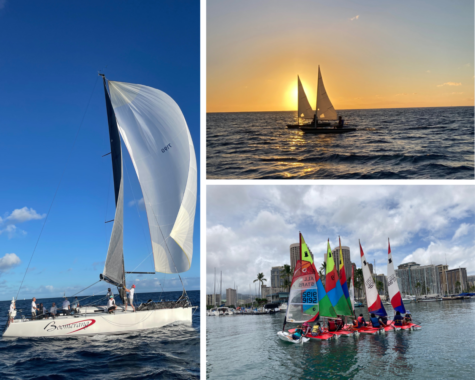 Sailing is an activity that brings such wonderful community, experiences and emotion. All of these people, though very different, are all connected by one thing, and that is their passion for adventure, thrill and growth. 
"When I'm out on the ocean, no matter what emotion I go in with, I leave feeling way better," Cramer said. "It pulls the negativity out of me and allows me to be forever grateful for my home here in Hawaii."
Leave a Comment
About the Contributor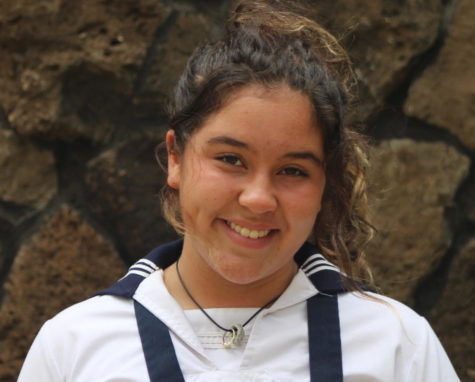 Jillian Simpson, Reporter
Jillian Simpson is a first-year Journalism student and a senior at the Academy. As a student reporter, she hopes to have a safe space to share her passions,...