Students urge end to 'period poverty'
When it's that time of the month for high school student Agia Lee, she not only fears the onset of menstrual cramps but of embarrassment as well.
"I haven't been able to afford pads, so I normally ask other girls if they have one or two that I can use," said Lee, a senior at all-girls Catholic school Sacred Hearts Academy. "I feel bad and ashamed because I just don't have the money."
Lee isn't alone; a study found that one in five teens struggle to afford period products. It's what's being called period poverty, or the lack of access to sanitary products, that has sparked a movement calling for free and accessible period items in public spaces, particularly in schools.
"Students in the United States face considerable barriers in accessing (these products)," according to the study. "While economic barriers are significant, cultural and structural obstacles are also largely to blame. Lack of access is evident across various demographics…with effects that include risk of infection (and) emotional anxiety."
For Lee, it means missing classes; a situation echoed in the study. More than four of five teens do not attend classes or know a classmate who missed class because they did not obtain the necessary products.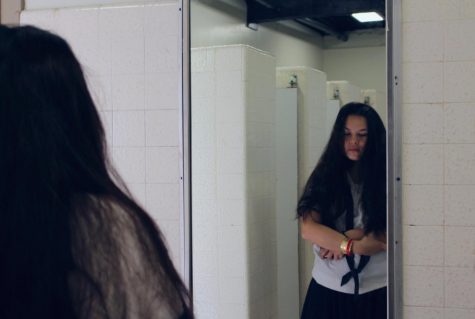 "It's sad that we have to skip school," said Lee, who doesn't think girls should be "punished" for having periods—the monthly release of menstrual blood essential to the female reproductive processes. 
Taking care of lady business
At the Academy, menstrual items are currently in discussion by both the administration and the parent organization. 
The all-girls school's upcoming goal is to provide middle and high school students with menstrual hygiene products, according to Head of School Scott Schroeder. The exact time frame of implementation was not provided. 
"This will help students focus more on school and not have to worry about periods," said Academy sophomore Shayla Mokuahi, who has stayed home from school because of unbearable menstrual cramps.
She spends close to $75 a month on pads, tampons and over-the-counter medication for menstrual cramps. 
While the Academy does not officially provide period products, students do assemble kits as part of a religion class activity. Every year, the junior class gathers to discuss societal issues, such as menstrual equity. 
"Even with that, we barely scratch the surface," religion teacher Leilani Asuncion-Tagupa said. "I have my own stash (of pads), and I'll gladly share it with those who find themselves suddenly needing it."
When her class was near the restroom, Asuncion-Tagupa said she had at least one student a week asking for pads. The teacher also knows of students who "use their pads for as long as possible so that they can ensure they have enough."
But senior Noe Nekotani always comes prepared and said being able to access such products is not an issue for her.
"I have this app (Flo) that helps me to remember my monthly cycles," Nekotani said. "I can estimate when my period will start, so I know when to bring pads with me to school."
Menstrual movement gains momentum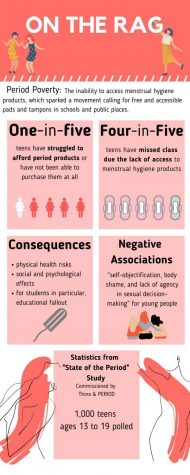 The push for menstrual equity has been in motion over the last couple of years by organizations, such Thinx, known for period-proof underwear, and PERIOD, a youth-led group focused on fighting period poverty and stigma. Both helped to coordinate the study, which polled 1,000 United States teens ages 13 to 19.
Hawaii, along with 33 other states, recently eliminated the "tampon tax," which puts an extra tax on menstrual products because they are seen as a luxury item rather than a necessity. 
Additionally, individual states have taken strides. New York City provides menstrual hygiene products free of charge in public schools, prisons and homeless shelters, acknowledging that such products should be offered like toilet paper, soap and water. 
The Menstrual Equity for All Act (H.R. 1882) would improve access to period products in schools, incarceration facilities, homeless shelters, businesses and public federal buildings. 
Additionally, former First Lady Michelle Obama highlighted the connection between lack of access to period products and school productivity, as part of her Let Girls Learn initiative. 
Ending period poverty
Conversations have also started on the web, with recent social media campaign, #EndPeriodPoverty. Menstrual hygiene brand Always encourages people to share their opinions on the issue. 
The company has delivered more than 30 million pads to girls in need this school year in the U.S., U.K., Canada, Greece, Turkey and more countries. 
Teaching for that time of the month
Period poverty also includes menstrual hygiene education.
Discussion about periods and sex in schools is supported through the Real Education for Healthy Youth Act. Passing the bill would prioritize medically accurate sex education at the state level to ensure period education is accessible and available for all students.
The bill would ensure federal funding is allocated to comprehensive sexual health education programs that provide young people with the skills and information they need to make informed, responsible and healthy decisions. 
"We don't have a sex education class (at the Academy), but we do cover it in our different programs, like the Respect and Human Sexuality," teacher Asuncion-Tagupa said. "We teach the value of marriage and the characteristics associated with it, rather than just the sex education portion of it…(and) I do touch upon the importance of knowing your (menstrual) cycle."
Leave a Comment
About the Contributors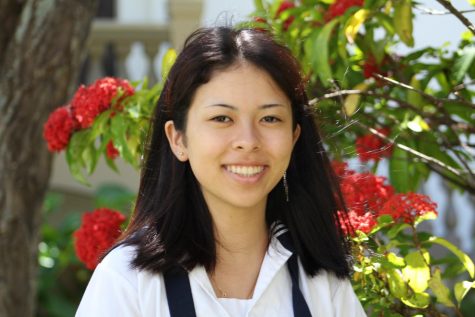 Kirsten Aoyagi, Reporter
Kirsten Aoyagi is a second-year journalism student in her Senior year. During her free time, she likes to watch videos, play video games, and hang out...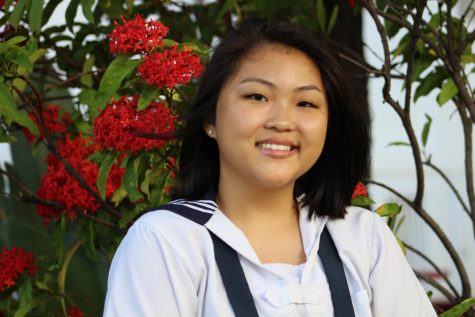 Brianne Ishihara, Reporter
Brianne Ishihara is a first-year Journalism student in her Senior year. In her free time. Brianne likes to do makeup, sew, embroider things, sleep and...