During this time of year, notifications flood students' cell phones, reminding them about upcoming college application and scholarship deadlines.  For some, these notifications add even more pressure, particularly on those who have yet to tackle their SAT and ACT tests.
Sacred Hearts Academy senior Camille Arnaiz has attended both SAT preparation classes offered at the school. 
"Mr. (Randy) Fong's recommended course offered a great overview of both the SAT and ACT," she said. "Mrs. (Jill) Sprott's class is reviewing the questions and going over the material itself." 
 Solutions Test Prep is the course that Academy counselor Randy Fong coordinates. 
"They've been teaching this course at Sacred Hearts for the last eight years," he said. 
He encourages students to sign up.
"They have proven results in both practice and actual test show improvement," Fong said. "Of course, students have to be diligent in their work and…consistent in attending lectures and in taking the practice test." 
The solutions Test Prep & Tutoring advertises on their flier, "We deliver comprehensive & interactive instruction to give you the proven strategies, techniques, and skills required to greatly improve your SAT & ACT test scores." 
The course requires students to meet for 12 sessions for a total of 42 class hours. The classes are on Monday, Tuesday, Thursday, and Friday for the first week. The following weeks will continue with this schedule, but without classes being held on Friday. The cost of tutoring courses will be $595, "Fees include official SAT & ACT study guides and Solutions Test Prep Manual."
For those concerned about the price of solutions test preparation, the Academy also offers free classes.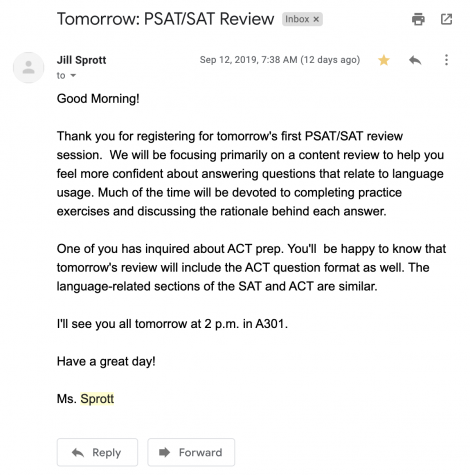 From the English department, Sprott hosts tutoring classes every Friday after school from 2 p.m. to 3 p.m. This class focuses on the reading and writing portion of both the SAT and ACT, along with the essay section. 
Registration for Sprott's class is on a first-come, first-served basis, with 25 students as its maximum.
Sprott's class offers an in-depth review of reading and writing questions commonly found on the SAT and ACT tests. 
For more information on Solutions Test Prep, visit their website.