Bumping shoulders next to bulked-up bomb squad members, while avoiding the glare of shiny brass police badges across the way wasn't exactly how I'd pictured the morning to go. I could feel a ridiculous amount of sweat begin to pool up under my fidgeting legs, and I looked at my watch once more.
When would it be our turn?
My paddling crew and I were asked to be extras in an episode of the hit television series "Hawaii Five-0." We were already waiting hours in the hot sun. The opportunity was a chance to be on TV and meet celebrities, but for me, it was a chance to make my dad proud.
He has been working in the local film industry for years.
The morning of Nov. 19 was one like no other for me as I found myself bumping shoulders with bulked-up men from a bomb squad and eye-level with the shiny brass badges of a police crew. Consumed by the heat of the beaming sun and anxiousness of waiting for my paddling crew to be called to the front, I turned and saw my dad, giving me a smile of encouragement from afar as we both prepared to work on set of the hit television series, "Hawaii Five-0."
Weeks prior to the 19th, my canoe club coach contacted my crew asking if we'd like the opportunity to be extras on "Hawaii Five-0." With much excitement, we instantly replied "yes" and hoped that we'd get chosen for the parts. Following our team submission was a series of paperwork that we needed to fill out, but were not all too familiar with, such as tax forms, work permits and media release forms. The day we were confirmed as extras was a moment of pure elation, but was nothing compared to the actual morning of filming.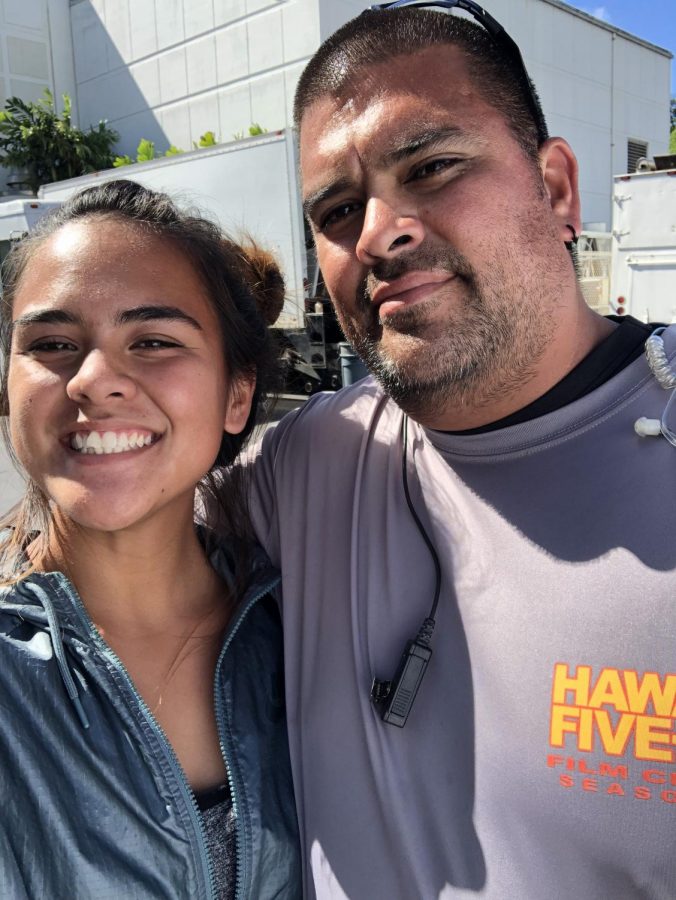 For myself in particular, the experience was even more memorable as I got to work with my dad on set. My dad has had an extensive work history in working on movie sets for famous films and television series, such as "Lost," "Magnum P.I." and the newest "Jumanji" movie. I always admired him as a man who works hard, as he has this job as well as his regular job of being a commercial driver's license (CDL) driver. When I found out I was working on the "Hawaii Five-0" set, I hoped to have had the same day as when my dad worked, to which I was ecstatic it was.
From the moment of boarding the shuttle bound for the "Hawaii Five-0" headquarters to stepping foot in the parking lot at the Ala Wai Canal, which was the film site, we couldn't contain our excitement. As we stood in line to sign important forms and waivers, my dad surprised me with breakfast and words of affirmation to get me through the day. Seeing that I'd have him to see throughout the day made me even happier and excited than when I first arrived to the headquarters.
What seemed to be a good morning was challenged as we had to change our clothes to uniform t-shirts, which were only available in youth sizes. As most of us are bigger than the average teenage girl, finding shirts to fit us proved difficult. I managed to secure a youth extra-large, which was equivalent to an adult medium, but others weren't as lucky. Finding a place to eat our breakfast was a difficult task as well since there was a lot of people in the dining hall. To our relief, it was announced that we were to board the shuttle, which would take us to the film site.
When we arrived on set at the Canal, we were put with the others extras, which consisted of all types of occupations and hobbies such as, soccer extras, a bomb squad and even police extras. After about 20 minutes, we were called on set to start filming our scene. What we thought was going to be a few minutes of filming turned into hours worth of filming then re-filming and even doing the same scene from different angles. The cool and slow-moving morning turned into a hot and windless day of walking across the hot pavement barefoot and having constant thirst. Our coach was there to deliver us water when we needed it as well as snacks when we had breaks.
Throughout the day, seeing my dad working on set while we were filming was exciting as I've never gotten to see what he does. When I started getting tired of moving and felt like taking a break, he was always there to check up on me as well as sneak me some of the set snacks for the film crew.
Another highlight of my day was being able to see the stars of the show, such as Alex O'Loughlin, who plays Steve McGarrett, and Beulah Koale, who plays Junior Reigns. After filming, right before we were supposed to board the shuttle to go back to the headquarters, I along with some of my crew members got the opportunity to take a picture with O'Loughlin.
Filming did not finish until noon and by then we were all tired and ready to go home. When the stage director called the end of the shoot, we all sighed in relief and let out cheers or joy and accomplishment. From afar I could see my dad smiling with pride as he gave me a thumbs-up and quick nod before he had to return to his set duties.
When we got back to the headquarters, we were provided lunch as well as a place to rest as we awaited the papers we needed to sign in order to receive our pay. I thought all of the excitement from the day was coming to an end as I enjoyed my lunch, but little did I know that my dad had one more surprise for me.
As soon as I finished my lunch, he came to take me on a tour of the Hawaii Five-0 set. From the outside, the set building seemed uninteresting, but inside of that seemingly insignificant building held all of the places from the show that I've watched for years. As soon as I walked in, the familiar scene of 'Iolani Palace greeted me with the fictional Five-0 task force headquarters right next to it. Seeing all of the places which seemed so far from each other in show left me amazed for the duration of the tour. Sadly, my dad had to go back to work as his job required him on set all day, so with a grateful heart and big hug, I said goodbye to my dad and left with my crew to go back to the set parking lot.
The experience of working on set and behind the scenes of one of my favorite shows opened my eyes to the hard work that goes into making a single episode of a show that has been around for almost 10 years. What made it even more memorable was being able to experience with my dad, who in part took me under his wing and showed me the ins and outs of working on set. If I ever have the chance to be on the show again, I'd definitely do it again even if I have to miss school as nothing beats a "father-daughter workday."