It's a juggling act for Sacred Hearts Academy senior Anika Galvan, with multiple college-level classes, after-school clubs and a part-time job filling her days. 
"There's a lot of pressure on students because we're expected to excel in academics and extracurriculars just to get into college," Galvan, 17, said. "I am always thinking about my future, and I worry if what I'm doing now is enough to be successful."
While the pressure to maintain grades and to gain out-of-the-classroom experience is nothing new for teens, experts say the demand today is greater than ever.
Colleges accept less, want more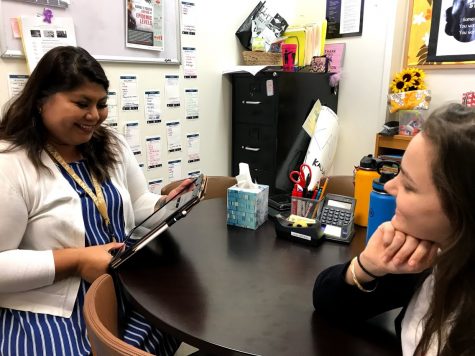 "The academic demand has increased tremendously from when I was in school (more than a decade ago)," Academy Counselor Annaliza Miyashiro said. "College admissions are much more competitive, with (smaller) acceptance rates…and more students to compete with."
Colleges today accept nearly two-thirds of first-time freshmen, according to a report by the National Association for College Admission Counseling. The average acceptance rate for the 2016 fall semester was 65.4 percent, as compared to an average of 71 percent in 2001.
Top schools, like Stanford University, are also being more selective. In 2017, the school had its lowest-ever acceptance rate of 4.65, according to Ivywise.
Because of this, Miyashiro emphasizes not only earning good grades and test scores but also participating in extracurricular activities.[poll id="64″ align="right" background="on" border="all" shadow="on"]
"Students should go beyond the requirements, (such as doing) community service, getting involved in student life (and) extracurricular activities," she said. "But to make their college applications more competitive, they should take Honors or AP courses, take on leadership roles and commit to a particular project (or) service."
Galvin, who has been at the Academy since freshman year, is steadily headed in that path. This year, textbooks in world religions, honors pre-calculus, Advanced Placement (AP) physics and economics fill her book bag. She also laces up her ballet shoes three times a week, as a student in the Academy's dance program.
In addition to her academic workload, Galvan pairs up with an elementary-aged student, as part of the Big Brothers Big Sisters Hawaii program. During the summers, she dives into the Waikiki Aquarium's leadership program. 
Gaining workforce experience
In addition to balancing various responsibilities in school, most teens today choose to work part-time in order to prepare for a lifelong career.
Studies show that students with part-time jobs are able to gain life skills. The list includes taking responsibility, multitasking, practicing social interaction and gaining a sense of independence through earning their own money.
For the past year, Galvan has been working at the Flip Flop Workshop, which is also her first job. The shop specializes in custom flip flop footwear. As an employee, Galvan meets customers visiting from around the world and assists them in creating their Hawaii souvenir.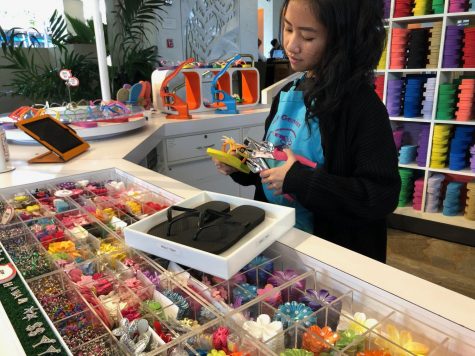 "Having a job now will definitely put me ahead of others when I start working after college," Galvan said. "Employers look for those (who are) more experienced, rather than having to teach someone who is brand new to working."
With a head start in the workplace, Galvan said her biggest challenge is with time.
"At work, it can be stressful thinking about how much schoolwork I have to do afterwards, and when I do get home, I find it hard to actually get any work done," said Galvan, who gets home from work at about 10 p.m. She works a few days a week.
Finding time to spend with family and friends has also been a struggle for Galvan. She tries her best to fit this in because she feels it is important; however, it has been pushed further down her list of priorities in months leading up to graduation.
Focusing on school
Academy senior Aiyana Arnobit disagrees with adding more responsibilities outside of school. As the top of her class of more than 100 seniors, she has been nose-deep in her studies.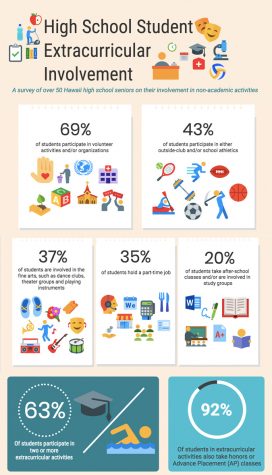 "Having a job in high school would be a disservice," she said. "It would prevent me from pursuing my academic workload or participating in various club activities."
Arnobit is taking almost all AP courses, from AP Japanese, to AP biology and AP literature.
"I want to get into highly competitive schools, so I need my classes and extracurriculars to be (challenging) in order for me to be a competitive student," Arnobit said.
In addition to her academic workload, Arnobit is the captain of the Academy's cyber defense team, as well as a member of the Center For Tomorrow's Leaders, a statewide nonprofit that grooms students into becoming political leaders. Arnobit also regularly participates in the school's math and coding teams.
With all of this on her plate, she maintains a 4.51 grade point average.
'Having experience is critical'
Like Arnobit, 2011 Academy graduate Jordan Nelson also chose to focus on school-centered activities during high school; however, looking back, Nelson said she would have done things differently.
"I was always a terrible student in high school and earned a C and B+ at best," she said. "I couldn't have imagined having a job, on top of my loaded extracurricular schedule."
Nelson took seven different courses each semester, in addition to being on the Academy's softball and canoe paddling teams.
Today, the 25-year-old is a resource recovery specialist for the Windward Zero Waste School Hui. The nonprofit works with windward Oahu schools to reduce waste, restore soil and educate students on sustainable practices.
Nelson's pursuit in plant and environmental protection sciences was not easy, she said, as her lack of prior work experience made it difficult to secure a job after college. 
"I interviewed for a job with Department of Land and Natural Resources and didn't get it because another person had more experience," she said. "Having experience is critical; employers look at the degree, but they value the hands-on experience more."
After graduating from the University of Hawaii at Manoa, Nelson moved to the Hawaii Island to work as a park ranger at the Kaupulehu Dryland Forest Reserve.
This notch on her resume helped Nelson secure her current job as a resource recovery specialist.
"Putting the kids in the workforce, when they should be enjoying their years in high school…is unfortunately the world we live in," Nelson said. "An undergraduate degree isn't enough anymore; you need experience.  You need to do it all, even if it means taking on heavier loads."