In the spirit of the holidays, November and December are often celebrated as a time to be thankful for those around you. Putting a twist on what to be thankful for, Sacred Hearts Academy's Eco Club recently organized a beach clean-up as a way to give back to the Earth and show appreciation for the beauty nature has to offer us.
"We decided to do a beach clean-up because it was the one thing we knew that locals could unite on," Eco Club member Kalei Downey-Silva said. "We take pride in our island, especially our beaches; therefore, it is our responsibility to keep them clean."
The Eco Club was initially started by juniors Downey-Silva, Chloe Onato, Jozette Barios and Geralynne Baria.
"During summer school, the four of us would hang out after class, and we'd usually just sit and talk on the red tables (and) one of the topics that came up in our daily discussions was how much trash there is everywhere," Onato said. "We started talking about how we should do something about it, and we realized our school doesn't have any club that really applies to what we wanted to do. We got the idea to create one."
The Eco Club was not the only Academy club set on cleaning the shores of Bellows Beach in Waimanalo. They were joined by the Learning Across Borders (LAB) Club and Pacific and Asian Affairs Council (PAAC).
"We spent a good four hours at the beach, which seemed to pass by quickly since we had the help of the LAB and PAAC clubs," Downey-Silva said.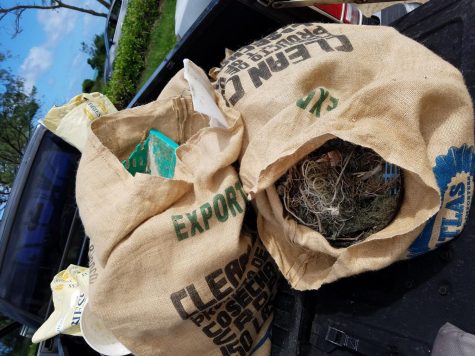 The club plans to put themselves in the public eye by organizing future beach clean-ups at more frequented locations such as, Waikiki and Ala Moana beaches.
"Litter is something that mother nature can't overcome by itself, especially with all of the environmental threats that have been taking place in our world lately," Downey-Silva said. "Hopefully with this service participants were able to see how damaging our thoughtless actions could be not only to the earth but to us."