With prom season in full swing, in addition to hair, nails and makeup, one of the highlights of this momentous high school experience is the dress. Our Lancers have been shopping for their ideal dress as far back as last December to make sure they find the perfect one. While you may be expecting teens to be dressed to the nines, this season's dress trends suggest otherwise. Here's a look into the trending dress styles and colors amongst Sacred Hearts Academy students.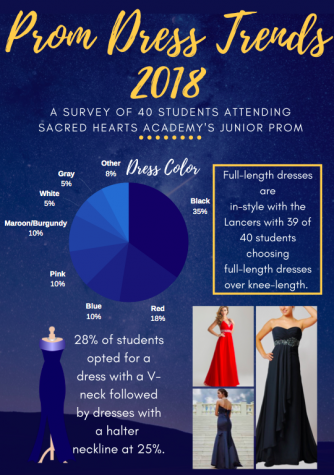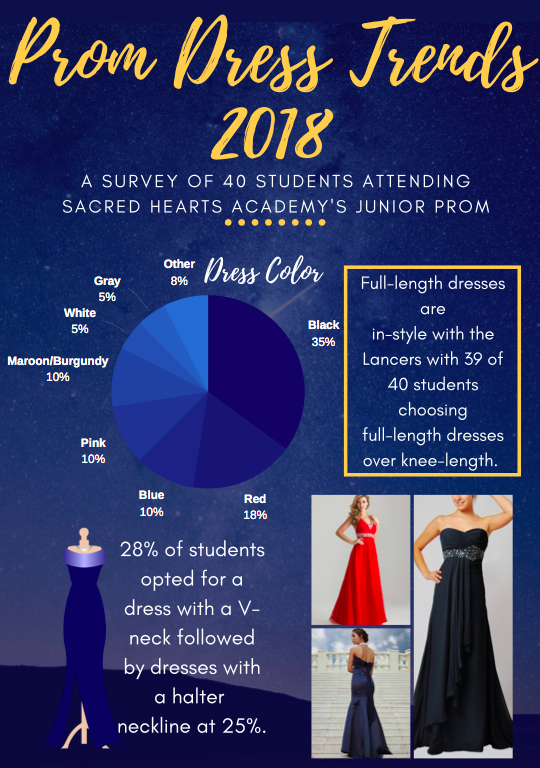 Style
In a survey of Academy students attending prom, the Ka Leo staff  asked students to choose between a short dress or full-length gown, in which 97% of students said they prefer the latter. Two-piece dresses are taking the country by storm this prom season, but a majority of Academy students are keeping their dresses in one piece. Most of the students' dresses either have a halter, V-neck, off-the-shoulder or traditional sweetheart neckline. Rather than a loose and flowing dress, more than half of students opted for a full-body form-fitting dress. Due to students preference of form-fitting dresses, those with sheer material have dropped in popularity with the majority choosing dresses of solid materials.
Color & Embellishments
Unlike last year, where pastels and soft-colored dresses were the trend, this year students are going for colors deeper in hue. More than 30% of students have chosen black as their ideal prom dress color, which is the most consistent dress color chosen. There are also many students opting for a regal red, maroon or burgundy dress as well.
Dresses with sequin embellishments have also dropped in popularity, with a majority of students having minimal to no sequins on their dress. Despite the scarcity in sequin embellished dresses, keep your eye out as a few students are planning to wear fully sequined dresses.
Although dresses of darker colors were the go-to style for this year's prom season, students and their guests were able to shine.