If you find yourself at a loss for where to grab a quick bite or a meal with friends and family, see below Sacred Hearts Academy students favorites eateries and try them out for yourselves.
Gen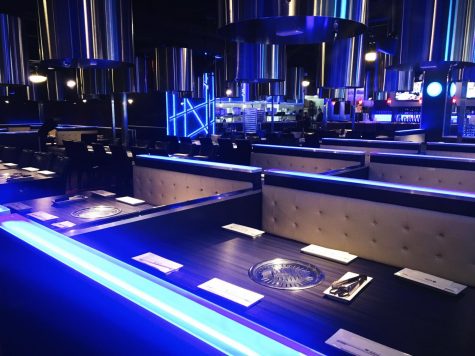 Gen is a new and popular Korean restaurant favorite amongst Academy students, which offers a wide variety of meats that customers can cook by themselves. Located in Ala Moana Shopping Center, Gen does not limit its menu to just meat. Other selections include, seafood, vegetables and a wide variety of banchan– Korean side dishes. Promoting themselves as practicing the "art of Korean barbecue," the restaurant is no less than art itself as the dining area takes on a modern look with all black walls and booths surrounded by a variety of neon lights. Gen is open from 10 a.m. to 11 p.m. Sunday through Thursday and 10 a.m to 12 a.m. on Friday and Saturday.
"I like how they have an assortment of foods available and with a particular meat comes a variety of different sauces like garlic chicken and honey chicken," junior Jasmine Matsumoto said. "It's a very disco esque setting and the big eating areas allow there to a lot of seats, which is good for big families."
Sura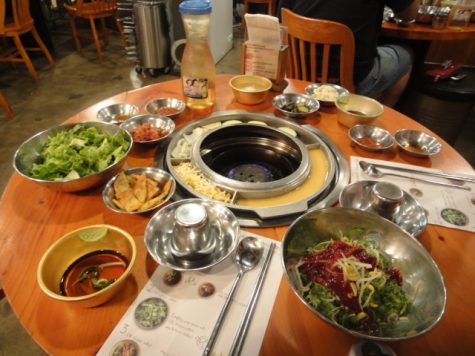 Looking for a location closer to the Academy? Sura korean barbecue on Kapiolani Blvd. takes on a more rustic look by having smaller tables with metal chairs and walls decorated with notes written in sharpie by past customers. Rather than serving water automatically, Sura gives customers a refreshing cold korean tea with water by request. Customers have the option of having a waiter or waitress cook their dishes or cooking it themselves. With just as much variety as Gen, Sura offers combination choices of their most popular dishes and soups. Sura is open all week from 11 a.m. to 1 a.m.
"The service and atmosphere is the best," junior Ragelle Lumapas said. "The variety in meat, soups and salads are amazing because I get can get whatever food I'm in the mood for."
Bee and Tea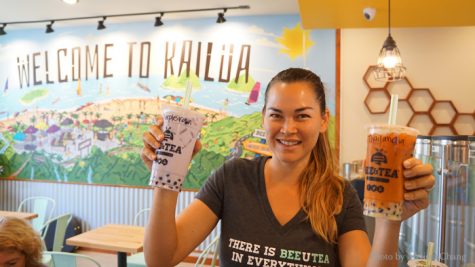 For our Lancers on the East side of the Island, Bee and Tea in Kailua Town is famous for their variety of boba teas, smoothies, coffee and lemonade choices. They also have food such as, steamed bao buns, fresh oatmeal, acai bowls, soup and salad. The environment of Bee and Tea is described by most as fun and welcoming as staff welcome customers in with a smile and have a variety of board games to play while enjoying your drinks and food. Bee and Tea is open  from 10 a.m. to 8 p.m. Sunday through Monday and 10 a.m. to 9 p.m. on Friday and Saturday.
"The smoothies, lemonade and acai bowls are my favorite," junior Maile Fox said.
Banan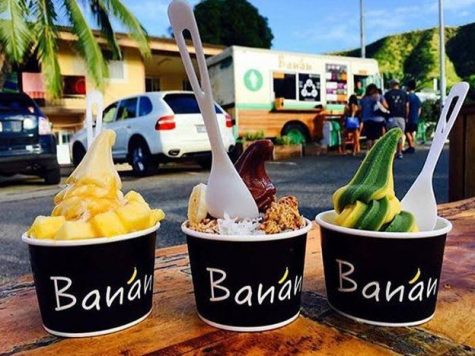 Acai and banana lovers often stop by the Banan food truck on Monsarrat Avenue in Kaimuki. Giving their customers a taste of both worlds and more, Banan offers their signature banana acai bowls topped with popped quinoa, island-grown fruits and honey. For those looking for more, they also have the option for the acai to be served in a papaya boat or with peanut butter in the mix. Banan also provides customers with a eating area complete with plastic lounge chairs, handmade benches and tables all shaded by a large tent. The Banan food truck is open daily from 9 a.m to 6 p.m.
"I love both bananas and acai bowls, so when I got to go to Banan, it was perfect," junior Xavier Downey-SIlva said.
California Pizza Kitchen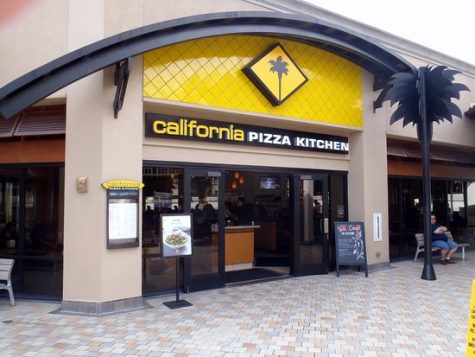 Not only a Lancer favorite, but also a local favorite for dining out, California Pizza Kitchen at Ala Moana Shopping Center gives customers a taste of Italy here in the islands. With classic dishes such as, fettuccine alfredo, kung pao spaghetti, waldorf salad and spinach artichoke dip, many Academy students find it hard to pick a favorite. California Pizza Kitchen in Ala Moana is open from 10:30 a.m. to 10 p.m. Sunday through Thursday and 10:30 a.m. to 11 p.m. on Friday and Saturday.
"I enjoy going there with my family because of how close it is to where we live," sophomore Noe Nekotani said. "We always order the same things because of how the food always tastes good and the great quality never changes."
Shirokiya Ala Moana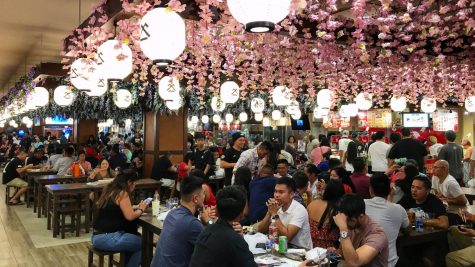 Located on the bottom floor of Ala Moana Shopping Center, the Shirokiya Japan Village Walk offers one of the widest varieties of Japanese food in the state. Not only giving customers more than 30 food kiosks to choose from, Shirokiya also has a Guardian Spirit Sanctuary in which customers receive fortunes and mini shops to buy stationary and Japanese toys from. Customers can go for a meal, or they can indulge in the many dessert shops such as, Marion's Crepes, Kulu Kulu, Vintage Cave Bakery and Maunakea Mist, home to the famous rainbow colored liquid-nitrogen balls. Shirokiya at Ala Moana Shopping Center is open daily from 10 a.m. to 10 p.m.
"No matter what type of food I want, hot or cold, Shirokiya gives me a wide variety of options and the atmosphere is always jubilant and welcoming," junior Grace Kim said.