[poll id="63″ align="left" background="on" border="all" shadow="on"]
When Sacred Hearts Academy senior Grace Francisco needs to meet up with friends or get to work, she immediately whips out her smartphone to call an Uber, a popular app-based service that allows users to request transportation on demand.
"I prefer taking an Uber over the city bus because there aren't really any bus stops near my house, so it becomes troublesome for me," said Francisco, who does not yet have a driver's license.
Francisco, 17, is not alone in her choice of transportation, as a growing number of Hawaii's youth has also turned to rideshare apps to get around. And while it's a trend placing convenience over cost, rideshare companies, like Uber, say it's a problem.
"Our policy is clearly explained on our Community Guidelines (webpage)," Uber spokesperson Andrew Hasbun said. "Only adults can have an Uber rider account. If a child under 18 is using (an) account, a parent or guardian must be with them at all times."   
Hasbun said he did not have a reasoning for the under-18 rule but only that the policy "is not (due to) an insurance issue. Our insurance covers all riders in the car during an Uber trip, regardless of age."
Rideshare services, like Lyft and Uber, work through smartphone-based apps. Upon requesting a ride, users are provided with a list of available drivers in the area and the approximate cost and time it would take to reach their destination. Similar to a taxi, rideshare drivers pick up and drop off passengers at any location.  
Teens find loophole
Despite the minor policy, teens, like Francisco, generally receive permission from parents to create an account using a parent's name and credit card information.
"I usually tell (my parents) where I'm going on the Uber," she said. "Sometimes if I don't call the Uber myself, then my dad will actually send one to pick me up."
Drivers suspecting riders of being underaged can still decline the person a ride upon pickup; however, according to drivers and riders, it is not a policy frequently implemented.
"I've been using rideshare apps for about two years now, and so far, I haven't been rejected by a driver," Francisco said. "One time when an Uber came to pick me up, the driver asked if this was an Uber for James, my dad, and I did tell him that it was my parent's account…and that was the end of it…I proceeded to get into the car."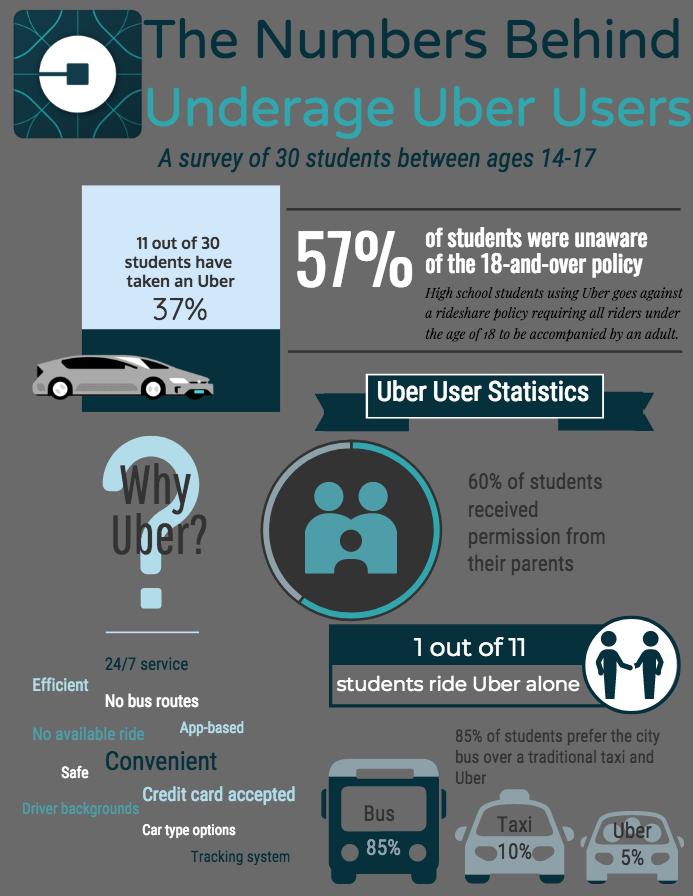 Drivers unaware of the policy
Grace Francisco's father, James Francisco, was an Uber driver on Oahu a few years ago and says he was not aware of the minor passenger policy.
"The focus of the new driver orientation was about customer service, but there was no mention of the policy."
During his time as a driver, James Francisco did have a few experiences with taking seemingly underaged passengers to their desired destinations.
"In Waikiki, I picked up an elementary school child," he said. "The mother met me at the pickup spot and told me to take her child to school a couple miles away."
According to Uber spokesperson Hasbun, drivers should "ask (passengers) to confirm their age and let them know that they will have to cancel the trip if they are indeed under 18."
He continues with, "Our 24/7 customer support team reviews that feedback and takes the appropriate actions, which can include removal (of the driver) from Uber."
Lyft officials declined to answer any questions for this story.
Another Uber driver, Bernadette Rosano, said she was not aware of the minor policy until "Ka Leo" brought it to her attention during an interview.
"I didn't know that riders of minor age weren't allowed to drive," said Rosano, who has been driving for Uber for about a year. "That was something that Uber never told me about, so I was never concerned with that or thought it was an issue."
What parents are saying
James Francisco, along with other parents, said he not only appreciates the convenience of rideshare services, like Uber, but also the safety.
"I get the notifications instantly when (my daughter) gets picked up and dropped off, who the driver is (and) the vehicle, so I feel safe about (her taking an Uber)," James Francisco said. "If I compare it to catching the bus, I don't have any indication of whether she got on or off the bus, (and) with a taxi, I don't get any confirmation."
All Uber drivers undergo a background check that includes a review of their driving record and criminal history. Uber also provides live GPS tracking and a "Share My Trip" feature that allows customers to share trip details in real time with family and friends.
Critics, including parents, say that allowing minors to ride alone in an Uber or Lyft is a risk. Parents, like Stella Silva, uses caution when it comes to shuttling her daughter to and from extracurricular activities.
"(The rideshare drivers) are complete strangers," Silva said. "We don't know how safe their driving is, and who would be responsible if there was a car accident?"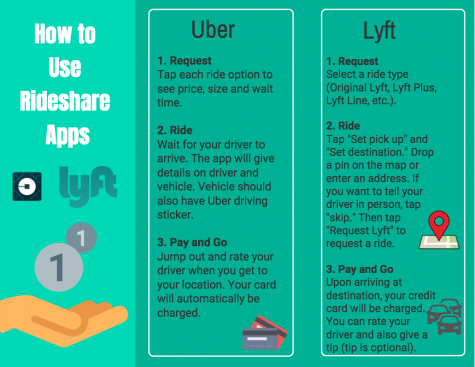 Instead, Silva picks up and drops off her daughter, even if it means interrupting her own schedule or asking a family friend for assistance.
Evaluating the 18-under rule
Driver Rosano said she understands the benefits of youth using rideshare services. Rosano suggests creating a rideshare service specifically for those under 18 years old.
"(Uber could) screen people to evaluate if they would be a good candidate for picking up minors," Rosano said. "That way, there's more of a safety net for parents to know that (their child is) being picked up by somebody that has been vetted by the company and is good with minors."
In response to re-evaluating its minor policy, Uber spokesperson Hasbun said, "In a few markets, we recently tested a program where teenagers aged 13-17 could ride with Uber unaccompanied using a teen account that's connected to a parent or guardian's Family Profile."
The program, which is being tested in Seattle, Phoenix, Columbus, is still being evaluated by Uber.
"It'd be nice if there was a way that I could use Uber without being questioned, and I think many more teens would be open to using Uber with the special program in place," Grace Francisco said.
Ridesharing apps, such as Uber and Lyft, have become increasingly popular among youth in Hawaii. Students and parents discuss the pros and cons to allowing minors to use such services. An Uber spokesperson also comments on the issue and gives details on a pilot program catered towards riders under the age of 18.