"Mom, hurry up! Everyone's already there!" I shouted, as I fervently paced back and forth through the living room, waiting for my mom to get dressed.
It's 10:30 a.m., and seven out of nine girls on the robotics team are already at the airport.
As soon as my mom came out of her bedroom, I dashed out the door with my 36-pound luggage and flower-patterned backpack.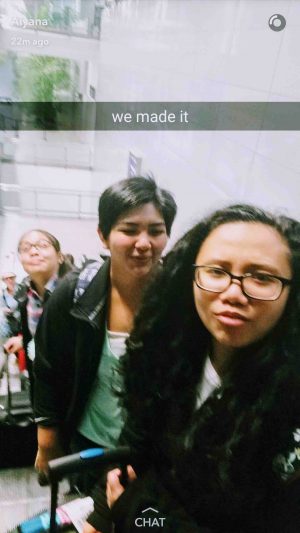 Every year, nine to 12 Sacred Hearts Academy students are selected to travel to an out-of-state robotics regional. I've been on the robotics team since my freshman year of high school and have been lucky enough to be selected every year since my sophomore year.
I hop into the car and haul my luggage along with me, anxious to reach the airport. I pull out my phone and text the group chat to let them know that I'm on my way. Flashbacks of my past robotics trips play in my head as I stare out the window, driving through the familiar route that we take when we leave for the airport.
From Utah to California, my experiences of traveling with the robotics team have been insightful and momentous. Whether it be the simplicity of experiencing a taste of life in the mainland to the complexities of putting my social skills to the test at a robotics competition, I always look forward to traveling across the Pacific with team members I work alongside.
I finally reach the airport but soon notice something that will affect my entire trip. I am no longer one of the hyper sophomores or the nonchalant junior.
"C'mon captain! Let's go," my co-captain Ji-Won Ha jokingly called out to me as we entered the TSA check-in line. I am no longer "just another team member to look after." I am a team leader that will help to facilitate this trip so that the underclassmen may, too, have the same experiences I've had.
Going going back back to Cali Cali
A harsh muffle and static wakes me up, as the pilot proceeds to speak, "Aloha ladies and gentlemen, we have arrived in San Francisco. The local time is 8:45 p.m., and it is currently 57 degrees. Thank you for flying Hawaiian Airlines. We hope to see you again soon. A hui hou!"
My grog fades away at the sound of seatbelts unbuckling and the overhead compartments opening. Notorious B.I.G.'s "Going Back To Cali" starts playing in my head, as my excitement builds, elated to be back in the city.
We arrive at the hotel at about 11 p.m. It's my first time being "room mom," and I am ready to take on the role with vigor. Soon, I'm faced with the first obstacle: after a five-hour flight, my fiddling underclassmen are hungry. It was an odd dilemma to be faced in since no team member is allowed to leave the hotel premises, and every restaurant nearby was already closed. Luckily, there was a local pizza shop nearby that delivered orders, and my first mission was complete.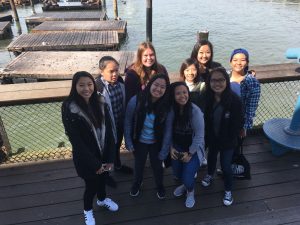 Exploring the dock of the bay
The robotics trips that I've went on in the past usually ended with one or two days of sightseeing. However this year, due to timely circumstances, our free days landed at the start of the trip. At first, I felt that this would ruin the work ethic during competition since there was no delayed gratification to work towards. But I was wrong. In fact, it actually helped our team dynamic.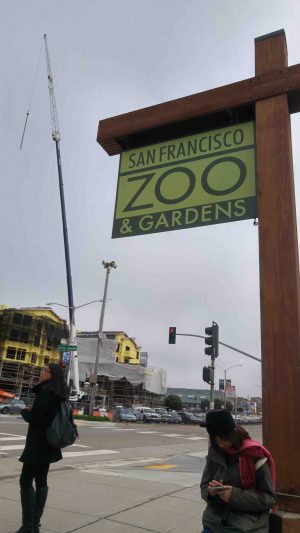 For manageability purposes, we were split into three groups. A parent chaperone led one group, Ji-won led another and then I had my own group, who esoterically nicknamed ourselves "Chipotle." Each group caught separate Ubers and went off to explore the city in the way they wanted to but all started and ended at the same place. On our first free day, we started our day off weaving through the crowds of locals and tourists at Fisherman's Wharf. We then made our way west to Ghirardelli Square, which we all jokingly called "chocolate square." Towards the afternoon, we found ourselves in the streets of Union Square for a team dinner.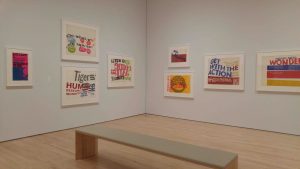 On our second day, we took advantage of the fact that our hotel was right next to the zoo and spent our morning walking through the different animal habitats. We then had lunch as a team at a Shanghai-style dim sum restaurant, which isn't something I was used to since the majority of Chinese restaurants in Hawaii are Cantonese style. After a tasty lunch, we grabbed boba and then headed for the San Francisco Museum of Modern Art (SFMoMA). After traveling through the seven floors of the museum, our teacher and my group headed for the competition venue to prep our work station for the next few days of competition. Exhausted and tired, we ended our day back at the hotel, ordering from the same pizza shop that delivered to us on the first night.

From visiting the sea lions at Pier 39 to walking through the Aquarium of the Bay, the value of spending leisurely time did not dawn upon me until I was in the presence of spending time with my fellow team members and mentors. More importantly, in this very moment I was able to look past the titles of "underclassman" and "team member." Instead, I was able to see peers and friends who share a common passion with me.
3 days of competition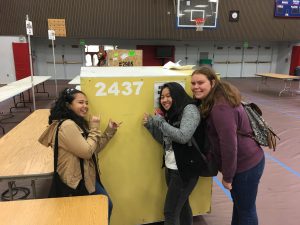 Four alarms simultaneously ring on the morning of April 17. A clock that hasn't "sprung forward" to Daylight Savings Time reads "5:00 a.m." The actual time is 6:00 a.m., and our  agreed meeting time down at the lobby is 7:45 a.m. I took a deep breath as I seemed to be the only one awake. I decided to let the underlings sleep-in for a bit since I knew the situation they were in all too well.
Anxious for competition but too tired to even think. It is 6:10 a.m., and I was ready to head down, grab breakfast and be there in time for our designated meeting time. I turned on all the lights in the room. From the desk lamp to even the bathroom light, it was lit. Everyone was awake and thankfully, we made it in time. This morning routine didn't carry on for long, gladly. We all got better as the days went by.
As we walked through the maplewood doors of St. Ignatius College Prepatory, it hit me again. I'm nearing the end of my high school robotics career, and this regional competition will only be the first of many for the underclassmen I look after now.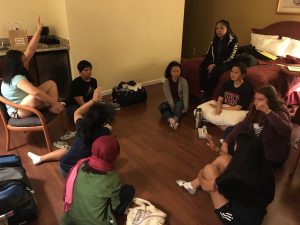 This robotics competition is under the For Inspiration and Recognition in Science and Technology (FIRST) program and is a part of the FIRST Robotics Competition (FRC) division, which is intended for high schoolers. And surprisingly, this is San Francisco's first time hosting an FRC regional. It's both two-thirds of the team and San Francisco's first time at witnessing a robotics event such as this. How much more exciting can that be? Jokes on me–it actually can get more exciting.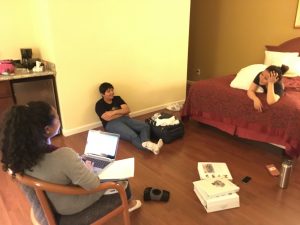 The first day of FRC regionals are practice days and are not as strenuous, but I thought wrong. In addition to being co-captain of the team, I'm also the programming sub-team head, scouting sub-team head and a member of the awards sub-team, I was now also a drive team member.
In my four years of participating in robotics, I had never driven the bot. (I have flawful spatial reasoning and rusty motor skills). And all of a sudden, I was placed as a coach for the drivers due to a problem with the dynamic of the initial drive team. Just when I thought things couldn't get any more hectic the unexpected happen. Ji-won comes running to me and says, "Ash, we need to finish the Chairman's Award presentation–all the interviews are tomorrow."
After the first day of the San Francisco FRC Regional, it is safe to say that exhaustion is an understatement. Right when we got back to the hotel, we called a team meeting to take place in Chipotle's hotel room. We briefed the two-thirds of the team that has never been to an FRC regional on etiquette and standard procedures of talking to judges, socializing with other teams and handling the robot.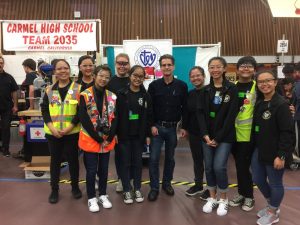 At the end of the meeting, Park wanted to say a few words amidst all the mixed and tense emotions that circulated the room, "We are here to gain experience so that we are more prepared for Hawaii Regionals so lighten up and have fun." The mood was a lot more light and easy to handle after he spoke. Much to my dismay, Ji-won and Katie, a junior who is also on the awards sub-team, reminded me that we have to spend the night refining our presentation.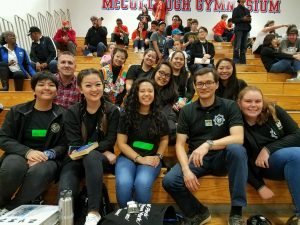 The next few days of official competition were more exciting than I had thought it to be. Ji-won found out that she'd gotten into Boston College and Northeastern University, and I found out I'd received a four-year tuition scholarship from St. Mary's College of California, which wasn't too far from where we were. From modifying our bot to being a drive team member and finally presenting the Chairman's Award essay, San Francisco brought me more than I had thought it could. As we left for the airport on Monday morning, thoughts of "what if's" and "how comes" floated through my head, but I was content with the experience I had.
Thankfully, I'll be back for more experiences in San Francisco when I go back to California to attend college a few miles east of the city in the fall.