Sacred Hearts Academy's Advanced Placement (AP) Physics students had the opportunity to learn about physics in an innovative, fast-paced manner, while also testing out their driving skills.
Earlier this week, the class of seniors visited K1 Speed, a go-kart racing establishment in Kapolei. The Physics students previously studied the concepts of velocity, acceleration, momentum, circuits, centripetal motion and friction. They applied these concepts to their races.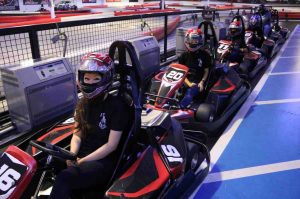 The students raced each other around the track, attaining speeds up to 23 miles per hour and completing 14 laps each.
In addition, they were treated to an exclusive tour and viewing of the different components of a go-kart. Students were able to see the inside electrical steering and braking systems of a go-kart, as well the go-kart track, which utilizes springs to absorb energy from vehicles that hit the walls.
"The speedster this year was (senior) Ji Won Ha, with a best lap time of 24.648 seconds," Physics teacher Joseph Lyons said. "Not bad for someone who does not yet have her driver's license."
Senior Frances Nicole Tabios also considered the field trip to be an enjoyable learning experience.
"It was really fun," Tabios said. "It was refreshing to take a break from the classroom and learn about physics concepts in a new, real-life environment."
This is the second year the Academy has had an AP Physics option for seniors. It is an Algebra-based class in which students study the principles of the laws of nature, including gravity, projectile motion and Newton's Laws.