Seventeen-year-old J. Reyes knew she was flirting with danger when downloading a dating app to her mobile phone several months ago. She was under the 18-year-old age restriction but says curiosity fueled her decision to pursue companionship in the virtual world and lie about her age.
"I was just bored and wanted to try it out for fun," said Reyes, who is a high school senior and requested her full name remain anonymous.
The teen explained how she created an account for Tinder, a dating app that connects users by their interests and GPS locations.
Swipe-right trend on the rise
Reyes joins a growing number of Hawaii's youth who are delving into the tap-and-swipe culture that dominates today's dating scene. And while it's an attractive idea for them, Hawaii Cybercrime Investigator Chris Duque said it is also a risky one.
He referenced recent accounts, on separate occasions, in which two Hawaii teenagers were sexually assaulted by someone they have been communicating with online.
Reyes said she was aware of such dangers and took precautions when setting up her account.
"I created a separate email and Facebook account (which is how Tinder authenticates users)," she said. "I didn't want my personal account and information to be seen by people I barely knew."
With Tinder, users swipe right in the app for "like" and left for "pass" to find matches with nearby Tinder users. After using the app for about a day, Reyes had already received more than a dozen dating matches and messages from strangers complimenting her profile photo and seeking to meet up with her.
"Who doesn't like to wake up to someone calling you 'beautiful?'" Reyes said. She enjoyed the positive attention and praise she received through Tinder, despite it being from people she did not know.
After a week of video chatting and text messaging one male user, Reyes pursued to meet him in person.
"I was comfortable when we first met because my friends knew the guy, so it wasn't as awkward," said Reyes, who met up with the 19-year-old "Tinderfella," as they're called, at a beach near Diamond Head earlier this school year.
Duque, a former Honolulu Police Department officer who now works as a cybercrime investigator for the Honolulu Prosecutor's Office, says Reyes was lucky her first meetup didn't end up worse.
"When you do anything online, especially online dating, the devices and services you use serve as a mask," he said. "You don't know who you're communicating (with) on the other side."
A study by the Pew Research Center reports that 53 percent of teens have started friendships over the internet, while 8 percent have dated someone they first met online.
The pair had been on multiple dates since first meeting at the beach. Reyes said she did not encounter any uncomfortable or unsafe situations while in contact with this person.
Dangers of online dating
Despite innocent intentions to meet new people, online dating platforms are notorious for perpetrators and predators because there is no way to verify a user's age. There is also no way of preventing users from creating false profiles.
Of Tinder's more than 50 million users, about 7 percent are between the ages of 13 and 17 years old.
"Dating apps draw a specific type of clientele," Duque said. "There are people who are in an emotional state, looking for some kind of affection or interaction. Predators and criminals feed on those emotionally handicapped this way."
According to Duque, sexual assault, rape, sodomy and extortion are commonly seen cases among Hawaii youth looking for love online.
In Hawaii, alleged perpetrators could face jail time for engaging in sexual acts with a minor, according to Duque. Underaged users could possibly have their dating account deleted for violating the terms of service.
In addition to Tinder, teens are dabbling in the dating world with apps like, Bumble, Meet Me and Pure Dating, according to mobile parental control service Netsanity.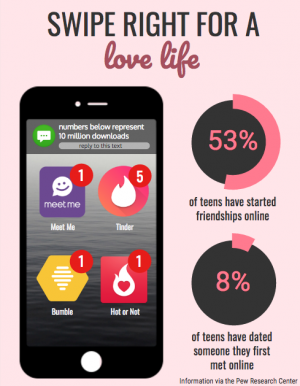 Playing it safe
For teens who want to pursue online friendships, Duque advises that they play it safe. They should not only verify with trustworthy sources before meeting the person but also stick to traditional social media apps, such as Facebook, Instagram and Twitter.
In a sense, he said, traditional social media apps prove to be safer because they provide a more transparent profile for those seeking to meet new people.
After using Tinder for several months, Reyes recently decided to end her online relationship. She also deleted the Tinder app from her mobile phone for the same reason she downloaded it–she got bored.
"My experiences have taught me that online dating is unrealistic, and I no longer want to involve myself in those types of (relationships)," she said and has not since used any other dating platform.
Prevention starts with parents
Not all teens are able to come to the same conclusion as Reyes, which is why Hawaii state lawmakers are taking action.
State Sen. Will Espero, who is the chair of the Senate Committee on Public Safety, aims to increase domestic violence safety with a proposed legislation. This legislation would direct more funding toward the Attorney General's office and other law enforcement that could help prevent internet crimes.
Until the legislation is passed, Duque advises parents to take the lead. The first step would be to monitor their child's mobile device use, ensuring their child is not using such devices in the bathroom or alone in a bedroom.
Parents should also be vigilant of unusual behavior and encourage an open discussion with their children about internet use.
The use of mobile devices is a privilege and not a right for youth, Duque said. He emphasizes that "technology is a tool that young people need in their lives, but they need to use it correctly and safely so they don't get hurt."