[slideshow_deploy id='11947′]
Campbell High School senior Bretman Rock struts down the hallways between classes, owning the brightly-colored H&M crop top and ripped skinny jeans he's sporting; his contour and hair, always on point. And if it weren't for the 90-degree Ewa Beach weather today, he'd be rocking a Gucci fur coat and loose-fitting joggers.
As one of the most followed Instagram users from Hawaii, known for his fashion and makeup tutorials, Rock is all about pushing boundaries.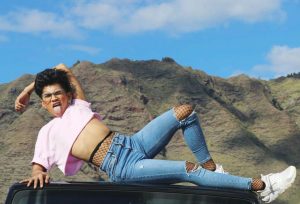 "I don't want to let being a (male) keep me from wearing things from the women's section or any section, at that," the 18-year-old said. "Labels are just not necessary to me."
Celebs, clothing lines lose the labels
Rock isn't the only one bending gender rules; celebrities like Kanye and David Beckham have been spotted donning skirts, while fashion brands worldwide are acknowledging gender inclusivity. More and more companies are creating collections that can be worn by both men and women.
Zara, a Spanish brand that Rock wears, introduced its "Ungendered" clothing line, featuring labels whose collections include guy-girl-shareable attire. Large corporate retailers, like Target, allow online shoppers to search for clothing with a "gender neutral" filter option.
While androgyny isn't new to the fashion world and has cycled in and out of the scene for decades, many—like Hawaii fashion entrepreneur Amy Luu—say today's genderless trend has some staying power.
"It isn't necessarily the term that has evolved over time (but rather), it is more the fact that people are being more vocal about (genderless clothing), and it's great," she said.
Luu owns Big Bad Wolf, a gender-neutral clothing store in Hawaii that supports losing the label.
"As a street-inspired store, we wanted to have a place where (people) can wear unisex clothes and be happy in them," said Luu, who also wears men's clothing.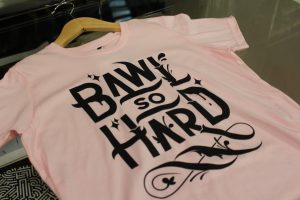 Her shop, located at the South Shore Market in Kakaako, is decorated with an eclectic mural of urban artwork; it features everything from collectible toys to quirky coffee table books. But it's the designs combining both gender styles that attract customers. Contemporary artists contribute to the collections, stocked with apparel of boyish graphic prints paired with feminine-colored t-shirts.
As a new mother, Luu initially launched Big Bad Wolf for children. However, it has since expanded to apparel for adults.
"We are for the forward parent, who is not bound by gender and for the adults that have a sense of humor, meaning they (do) not take life too seriously all the time," she said.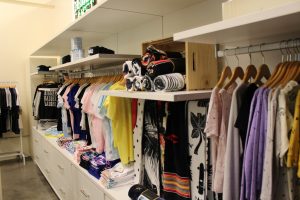 Luu hopes to spread her message and retail line to others through a pop-up shop for POW! WOW! Hawaii, a week-long event featuring a global network of artists and their work. POW! WOW! takes place this month.
What youth are saying
Despite the more visible trend of genderless clothing, there are still others averse to the idea of blurring gender lines.
"Clothes are made specifically for (a gender) and should only be used by the person designers intended it for," Honolulu high school sophomore Grace Kim said.
Kim says she would never wear clothes of the opposite gender. She prefers to shop at stores such as, Brandy Melville, which tailors specifically to a young, female demographic. Many would describe a "Brandy girl" as someone with long legs, long hair, wearing short shorts and over-sized sweaters.
Others who are Kim's age, like high school junior Mahealani Sims-Tulba, support genderless clothing.
"People should be the only ones with gender, not clothes," she said.
Sims-Tulba often dresses in clothing of the opposite gender for the Kawaii Kon, Hawaii's largest Anime convention. She also wears men's clothing on a daily basis.
The bottom line
Despite what others may say, both Rock and Luu agree that people should be able to wear whatever they want.
"You should just be comfortable and happy with what you're wearing," Rock said. "People (might) talk, but do what you wanna do."
"It's okay to make people uncomfortable," Luu said. "(Gender-neutral) means making your own style and being creative with what is out there."