Finding the treasure of literature
This year, Sacred Hearts Academy's lower school library raised more than $3,200 from its annual book fair.
The theme was "Pirate Book Fair: Where Reading Is the Treasure!" To celebrate the treasure of literacy, students, teachers and volunteers dressed up as pirates.
"(The Book Fair) is my favorite time of the year in the library because you see students' eyes light up when they connect with a great book," Lower School Librarian Laurel Oshiro said. "It was also a special time for parents to reminisce about their favorite books growing up."
The goal of the book fair was to encourage students to have their own book collection at home. Each student created a wish list before the book fair began. They fulfilled their wishes by getting at least one book on their lists.
To get students excited about the book fair and inspire them to read, book character Clifford the Big Red Dog visited lower school classrooms and greeted families in the autoline.
During the book fair, students could participate in an ongoing estimation game, in which they guessed the number of pirate gold candy inside of a treasure box. Being only one candy away from the actual count of 153, first grader Claire Pinkerton won the contest and was able to take all of the chocolate candy.
Money raised from the book fair goes toward the lower school library and will help in purchasing 300 new books for students. In addition, students donated $35 from their loose change box, which will be used to buy 12 new books for the Palolo Elementary School Library.
Leave a Comment
About the Contributor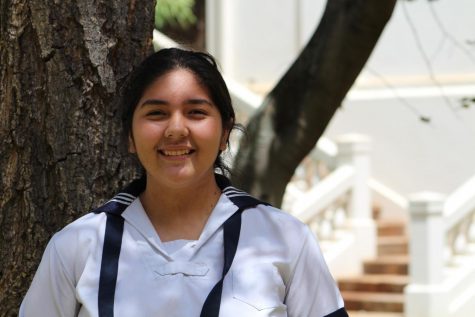 Shelby Mattos, News Editor, Reporter
Shelby Mattos is a senior and third-year Journalism student. She is the Publicity Chair for Division Council and participates actively in the Academy's...