Parents going 'Back to School'
More than 300 parents attended Sacred Hearts Academy's annual Back to School Night this year. The event gives parents an inside look into their daughter's' day-to-day school lives.
"I decided to attend the event because I wanted to meet my daughter's teachers," said one parent who attended. "I felt happy for my daughter because she's going to a good school with good teachers and a beautiful campus."
Parents travel from room-to-room, mirroring their daughter's schedules. This includes homeroom and change of classes, with five minutes of passing time. At the start of the night, parents were welcomed with a virtual introduction to the Counseling and Athletics departments.
This was also the first time grades 7 to 12 parents attended in a single evening. Previously, the event was split into two evenings; one for middle school and the second for high school.
For high school English teacher Rosalynn Cambe, Back to School Night is a chance to share her class and curriculum with parents. It is also a chance for her students to earn extra credit if their parents attend.
"I got this idea from other teachers who have been [giving extra credit] and decided that it would be a good idea," Cambe said.
About the Writer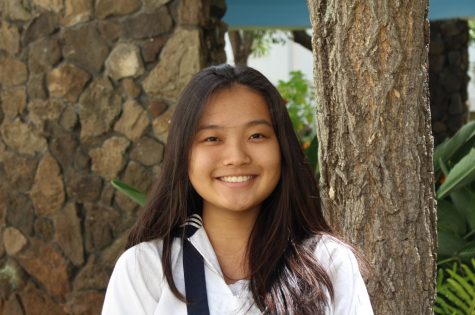 Noe Nekotani, Opinions Editor and Webmaster, Reporter
Noe Nekotani is a senior fourth-year journalist/webmaster/opinions editor for Ka Leo. In her free time, she enjoys listening to music, yoga, and hiking....