Robotics team proves successful in regional competition
Academy high school robotics team 2437 finished its season at the annual FIRST Robotics Competition (FRC), garnering two awards and ranking among the top half of teams in the state competition.
Lancer Robotics competed at two regional events this year first in Long Beach, Calif. where it participated in the Los Angeles FRC regionals from Mar. 9 to 12. Team 2437 finished 29 of 66 teams and brought home the Industrial Safety Award, sponsored by Underwriters Laboratories. The award recognizes a team's merit in maintaining safety in its labs and work environment at the competition as well as helping others stay out of harm's way.
Two weeks after returning home, Lancer Robotics went on to compete in the Hawaii FRC regionals from Mar. 30 to Apr. 2. The team proved more successful after making modifications to its robot's intake and outtake systems. Team 2437 ranked 12 of 38 teams, earning a place in the semifinals. In addition, the team won the Judges' Award. The award is given to a team that excels in the FRC program but does not specifically fit into the other award categories.
Academy alumna and former robotics captain, Angela Wong, was the executive director of the event. Wong was recognized as the 2016 Hawaii Regional Volunteer of the Year.
The team's season began on Jan. 9 with a kickoff event that members attended to view the year's challenge, Stronghold. In this game, teams had the task of building a robot that could withstand going through multiple types of terrain and obstacle defenses, shooting high and low goals and scaling a tower at the end of a match. The allotted time for teams to build the robot was approximately six weeks. In addition to competing on the field, teams also vied for academic awards that reflect a team's merit in a particular category such as safety, robot design and community outreach.
About the Writer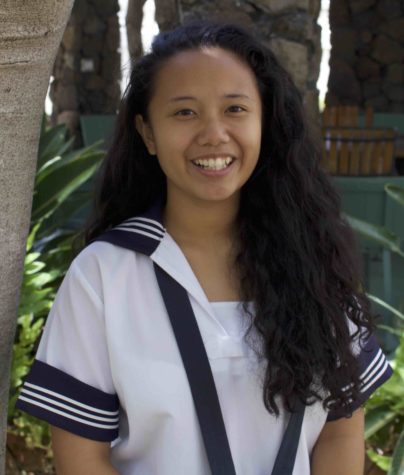 Ashley Marie Lardizabal, Webmaster, Reporter
Ashley Marie Lardizabal is a third-year Ka Leo reporter and a senior at the Academy. She is the webmaster of Ka Leo, co-captain of Lancer Robotics, as...