Economics classes take on community issues through innovative projects
Throughout the month of April, social studies teacher Whitney Miyahira's Economics classes were asked to think about problems their communities face and if they could find solutions for them.
Students were first needed to define their community.
Sophomore Jennifer Ung and her group focused on employees, particularly females, in the workforce. They believe that discrimination in all career fields need to be addressed, especially since it won't be long until they become a part of the workforce too.
"We think that there should be equality for everybody. It's only fair that if two people meet all the requirements, that they both get what they deserve [in pay] regardless of gender and skin color, " said Ung
Students were then asked to find innovative solutions to their problems assuming they had funding for it.
Junior Madeline DeZee is part of a military family, which is why she chose her community of homeless veterans.
"Sometimes we forget about those who served our country," she said. "If I had enough money, I'd want to start clinics and shelters specifically for veterans. Clinics for them to stay in good condition and shelter so that they have somewhere to stay."
Miyahira assigned the project so that students will understand the roles that individual communities play and realize how these communities together create a global community.
"The initial purpose of this project was to help students [gain] a global perspective. Students understand how several communities share the same problem and how they rely on each other, economically, to find solutions" Miyahira said.
Miyahira looks forward to what students can bring from the drawing board to actualization. She has high hopes for the project and has confidence in what young people can create.
"I think young people have some of the best tools for solving problems. Sometimes older people may not take them seriously, but I honestly feel like they could make a difference if they wanted to, " she said.
About the Writer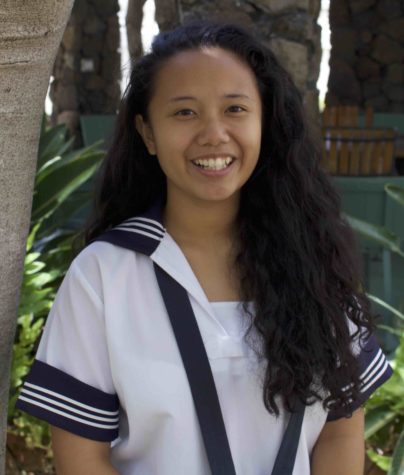 Ashley Marie Lardizabal, Webmaster, Reporter
Ashley Marie Lardizabal is a third-year Ka Leo reporter and a senior at the Academy. She is the webmaster of Ka Leo, co-captain of Lancer Robotics, as...