New teachers at Sacred Hearts Academy have been transitioning smoothly amid changes brought on by the global COVID-19 pandemic. Teachers say focusing on student engagement, as well as exploring new approaches and technological platforms, have been key to their shift in teaching.
Mercury Tsubata, a middle school life science and high school biology teacher, has been adjusting to the Academy comfortably, since she is familiar with technology in an educational setting. Sixth grade math and science teacher Amy Tucker says that her transition has gone smoothly, thanks to the efforts of the Department of Education (DOE) and assistance from Academy Lower School Vice Principal Remee Tam. Both the DOE and Tam have made countless efforts to ensure the safety and learning environment for both students and teachers are manageable. 
Teachers, like Tucker and Tsubata, have found the usage of slideshows and games, like Jeopardy, to be most helpful in maintaining student engagement. A virtual platform called PearDeck had also been implemented in classrooms. Students are not only able to see the slides but also able to answer polls and questionnaires to ensure understanding. 
Other teachers may disagree with the use of lectures and slideshows, as hands-on activities are their preferred method of teaching. They find physically engaging activities to be more inclusive and interactive for students. Tucker, for example, prefers physical assignments and activities, as they give her the ability to provide personal feedback to students while also keeping that engagement. On the other hand, she doesn't incorporate this method as often as she'd like due to the potential increase in exposure to bacteria and the coronavirus. 
Some students feel that the engagement between the teacher and students aren't very equal or fair but are trying their best to accommodate the changes. Junior Savanna Peng has been continued with distance learning for the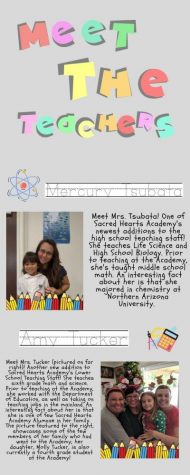 first semester. 
"Usually the engagement of the teachers are equal to both parties, but I feel that the virtual students and the in-person students are very disconnected," Peng said. "It doesn't seem like we are in one class. It is almost impossible to communicate with the in-person students for some classes. When the teacher walks away from the screen, the virtual students don't really know what to do."  
Connecting with students through distance learning and COVID-19 restrictions has been a challenge for few teachers. Tsubata finds it to be a barrier because some students are not as talkative. This causes them to be more secluded behind the virtual screen. With Zoom's private chat feature, however, she's able to communicate with students more personally. This, she said, helps students to feel more comfortable. 
Tucker, on the other hand, finds it easy to connect with her students. She said that as a new teacher and an alumna, she has an advantage. This allows her to connect with both new and returning students. 
Both teachers said that they want to work with the school community to get through COVID-19's obstacles and challenges in both distance and in-person learning. They find that working together, as well as giving advice and motivation to each other, has helped greatly in easing their transitions into the Academy. 
Tucker expressed her interests in working with other teachers. 
"We are here to do this together, and I want to get through it by working with everyone," she said. She also mentioned that these circumstances are new to everyone, and through cooperation and kind efforts, it is possible that times like these will gradually become easier.