Varsity volleyball takes state championship title
For the second time in Sacred Hearts Academy's 110-year-history, the varsity volleyball team took home a state title, defeating former two-time division II volleyball champion Le Jardin Academy this weekend. The Lancers beat the Bulldogs with a 19-25, 26-24, 25-13 and 25-17 win.
"There are no words to ever describe the feelings I felt when we won," senior Makenzie Faamausili-Cacoulidis said.
The 17-year-old had four kills, 43 assists and 13 digs, awarding her the title of Female Athlete of the Week and Most Outstanding Player by ScoringLive.
Senior and outside hitter Ryanne "Cookie" Burnett recalls the final moments before she could finally hoist the trophy high above her head.
"The most memorable part of the game has to be that last point, when I passed the ball, and Makenzie set it to Kayla (Murray)," Burnett said. "Kayla slammed it, and we all jumped with excitement and cried. We were so proud."
In that moment at the packed Neal S. Blaisdell Center, a sea of gold and white joined in the Lancer celebration. The first state win was in 2006.
"The moment they won the championship, I felt like a winner, too," Academy Counselor Annaliza Miyashiro said. "We were all very proud of those girls and how they represented the Academy on the court that day."
The seniors, like Faamausili-Cacoulidis and Burnett, played together for most of their high school volleyball careers. They credit their solid bond in overcoming the rough start to this weekend's game.
"We lost our first set because we just didn't have the right mindset," Burnett said. "But we changed our mindset and played like we never did before. We played with more heart and more passion."
Faamausili-Cacoulidis agreed that it was camaraderie that pushed them to the top.
"Our coach heavily stressed the word 'team' and how it is always 'team over individual," she said. "I feel that as the season progressed, we became closer as a family." 
Even with teamwork, Faamausili-Cacoulidis said it took months of training to dig themselves out of a losing streak. She referenced starting the season with zero wins and three losses.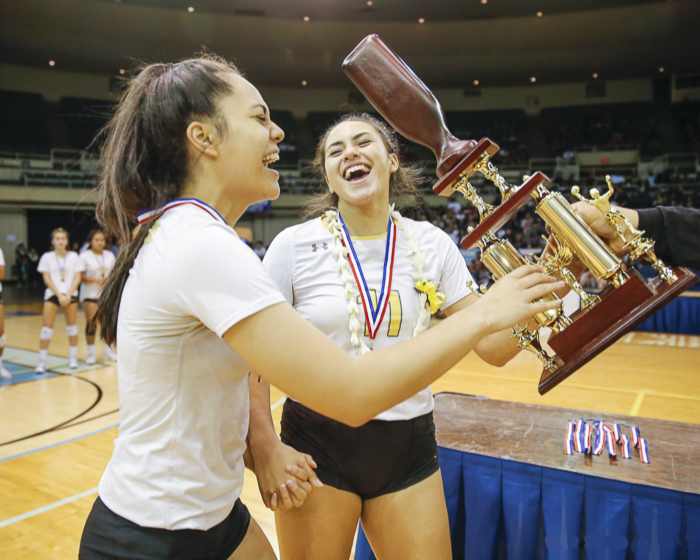 "There were moments where we questioned each other, but we just had to trust that the girl to our left and right would do their job, and in the end, we'd become successful," she said.
Despite the setbacks, the team stayed steadfast in their pursuit for success.
"The girls came in knowing if they work hard, this could be a special year," Head Coach Raymond Patcho said. "I told them to stay the course, trust the system, stay disciplined and keep working hard."
Patcho joined the Academy in 2017 after coaching at Damien Memorial School, Farrington School and Anuenue.
He immediately saw potential in the team.
"We couldn't have done it without doing it together; without working together on and off the court; without sacrificing things for the team; without having the ability to remain comfortable while being in uncomfortable situations on the court," Patcho said. "These girls came together as one, and as one we made an awesome run to become state champs."
The Lancer varsity volleyball team takes the state title after defeating Le Jardin Academy. VIDEO BY: Shay Bonilla.
Leave a Comment
About the Contributors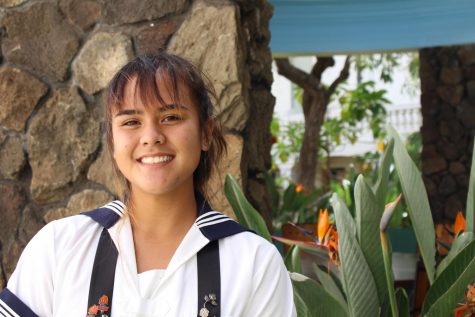 Rebecca Meyer, Features and Sports Editor, Reporter
Rebecca Meyer is a senior and third-year Journalism student. She is also the Features and Sports Editor. Being a journalist to her means being able to...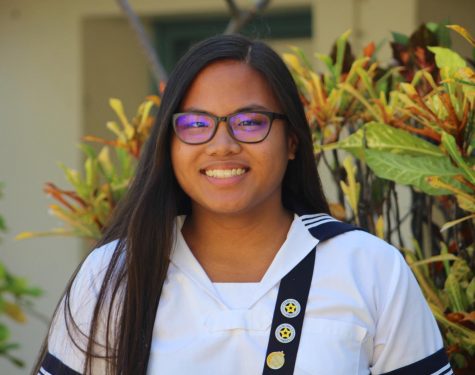 Mercedes Anacleto, Social Media Editor, Reporter
Mercedes Anacleto is a second-year Journalism student in her Senior Year. She is the Social Media and Sports editor.  During her free time she enjoys...