Volunteering benefits both community and individual
Volunteering is a way to gain life experience, provides opportunities to experience the world through hands-on work and allows teens to meet a diverse range of people.
Volunteer work says a lot about character, personality and a person's nature. Moreover, volunteer work shows future employers dedication to causes or commitment to ideals. Such acts of service demonstrate initiative, goodwill, leadership and the ability to work with others.
Alumna Cara Tsutsuse said, "The benefits that come with volunteering are far better than money. My sister Lacy and I chose to do community service for senior citizens by entertaining them with traditional Japanese enka music. We went to various senior citizen day cares and care homes sharing our love of enka with them. The best part about doing community service was seeing the senior citizens' faces light up when they heard a familiar tune. I realized that singing with the senior citizens meant so much to them and it made me feel that the community service I was doing mattered."
Research shows there may also be health benefits to volunteering. For instance, an improved sense of well-being and higher self-esteem may lower health risks associated with depression. Research performed by the Corporation for National and Community Service showed that  those who volunteer have lower mortality rates, greater functional ability and lower rates of depression later in life than those who do not volunteer.
"Volunteering builds health outside traditional clinical settings by engaging people in activities that strengthen communities and personal health at the same time," said researcher Dr. Carol Simon.
The work of volunteers can be especially rewarding and beneficial to those areas of the community that need volunteers to thrive. In a volunteer situation, one person can make a difference.
Junior Jadeanne Domanguera said, "As a junior, it is important for me to be involved in a lot of service for my college application. However, I also do service because I enjoy helping the community and making a difference in my community. With volunteer work, I also become more confident."
Freshman Elane Namoca said, "I choose to be involved in community service at my previous school because I want to give back to my former teachers and simply because I like helping others. It gives me a sense of happiness. Lastly, helping my former teachers allows me to thank them for the years I have been taught."
The continuity of service beyond school days also allows people to keep growing and learning more about themselves. Not only does it allow them to thrive, but also to enjoy the service they do for others.
"Volunteering increases social skills because you get to interact with a variety of people. Depending on the volunteer work, you also get to experience a learning environment beyond a classroom. I smile a lot more since starting to volunteer because even something as simple as a smile can brighten a senior citizen's day. Volunteering teaches you a lot about yourself and eventually you realize why you volunteer: because it brings you and those you volunteer for, happiness," said Tsutsuse.
"Although I'm through with high school, I continue to participate in community service. My sister and I still go to care homes to sing with senior citizens and make song sheets for them to sing with us. We are also part of the Fukushima Bon Dance Club and perform for the community at various bon dances during the summer months. I encourage all Sacred Hearts Academy graduates to continue volunteering and giving back to the community," said Tsutsuse.
About the Writer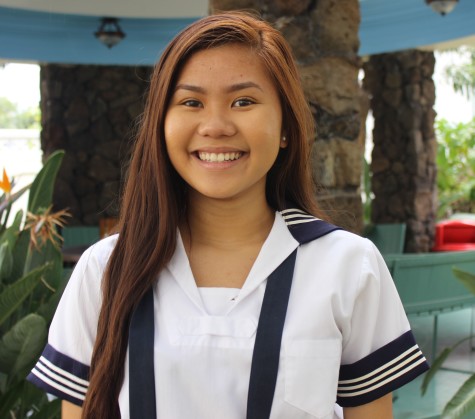 Frances Nicole Tabios, Opinions Editor, Reporter
Junior Frances Nicole Tabios is a third-year member of Ka Leo. She is currently a part of student council as SFA secretary. In her leisure time, she enjoys...