DIY treats and decorations for Christmas save money
As Christmas is quickly approaching, many start shopping and decorating in preparation for the holiday. Many people are dreading the time it takes to decorate their homes for the holidays, prepare for parties and buy Christmas presents. However, one can conveniently save money and avoid a stressful holiday by making Do it Yourself (DIY) treats and decorations. The DIY trend benefits many because it means not going to the mall and avoiding the hassles of waiting in line during this most crowded season.
Some examples of DIY decorations include painted ornaments, garlands and Christmas wreaths. One can easily make these DIY products by watching videos on YouTube, looking up pictures on the Internet and asking a family member or a friend to make it with them. DIY products not only allow one to save money but also allow one to create memories with family members and friends.
DIY products are also much cheaper and more convenient.
Other projects can include making holiday treats or baked goods instead of store-bought treats. Not only do they taste better, but they also are less expensive to make and greatly appreciated.
"I like making things myself because I feel like I'm in better control of what my family eats including treats,"  said first grade teacher Keri Sarbida.
Freshman Jasmine Basug said, "Making DIY holiday treats benefits me because it's convenient. It saves me a lot of money. I love to bake and making treats for my family during Christmas. I will definitely bake my own cookies instead of buying them."
Watching tutorial videos on the Internet also provides ideas and explicit directions on how to make homemade treats.
"I enjoy watching DIY videos on YouTube to get creative ideas on what decorations to make for Christmas. I also watch videos to get helpful tips on how to accomplish baking delicious treats to give out to my friends," said junior Kaye Chanell Tabios.
"Creating homemade decorations and treats for Christmas is easier on my wallet. Why go out to buy super expensive decorations and things when you can make it at home? Also, creating them together with my family brings us closer together and it gives my family and me a chance to have fun together. Like my grandmother's cooking, I can sense the love and kindness in the food that my family and I created," said freshman Kailanianna Ablog.
About the Writer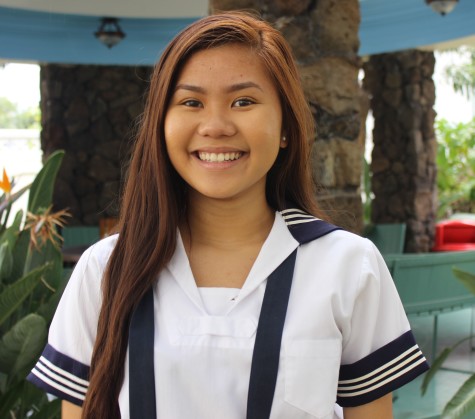 Frances Nicole Tabios, Opinions Editor, Reporter
Junior Frances Nicole Tabios is a third-year member of Ka Leo. She is currently a part of student council as SFA secretary. In her leisure time, she enjoys...