Academy supports 5-2-1-0 initiative for better health
Hang on for a minute...we're trying to find some more stories you might like.
Last year Sacred Hearts Academy began its participation in the Hawaii 5210 program, a state initiative that has partnered over 500 schools around the state to promote healthy weight in children.
Sacred Hearts began its 5-2-1-0 program in March, a program that promotes healthy eating and exercise. Future activities planned for the school are activities such as Hot Hula and Capoeira to help promote active fitness throughout the school.
Hot Hula is an intense core workout with foundations in dance from the Polynesian culture. Capoeira is a Brazilian martial art known for its quick, complex moves using power, speed and leverage.
The new Clarence T.C. Ching Student Center and a new catering company have brought new, healthy food choices to the school menu.
Seventh grader Kayla Tam said, "The food at the new cafeteria is good. It has better quality, and the snacks are healtier compared to the previous cafeteria," said Tam.
"I want to change my old habits to fit the ideas of 5-2-1-0 by eating healthier, stop using the computer for so many hours at a time, exercise more and go to sleep earlier," said Tam.
The 5-2-1-0 program wants students to become healthy eaters and exercise daily.
Sophomore Jillian Anderson said, "5-2-1-0 means that by being healthier such as eating more salads, it becomes a habit, and that habit soon becomes a routine. When it become a part of your daily lifestyle, it helps you to stay healthy your whole life."
Sophomore Minami Inafuku agreed. "If it wasn't for the 5-2-1-0 program, I don't think I would ever made the right choices to become healthy. I think it's thanks to this program that I am able to realize how important health is in today's society just by what we eat and how we exercise today."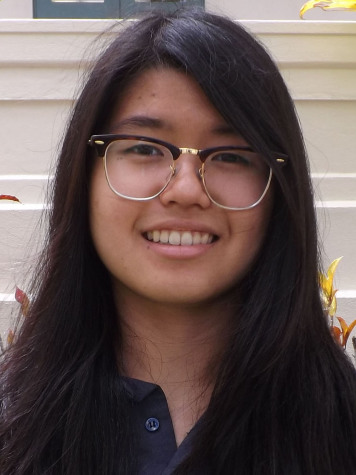 Larene Ujimori, Reporter
Larene Ujimori has attended the Academy since the first grade.  She enjoys drawing, painting, and writing and has a great interest in hip-hop dancing....