College visitors provide useful information for upperclassmen
Janelle Medrano, Reporter
September 4, 2015
Hang on for a minute...we're trying to find some more stories you might like.
Sacred Hearts upperclassmen have the opportunity to hear more than 80 college representatives speak about entrance requirements, campus and student life annually.
College counselor Randall Fong emphasizes that presentations allow students to speak to representatives directly and help students to complete the college application and decision process.
Fong said, "Students can ask questions about any aspect of the college, whether it is about the ambiance of the school, including the environment, dormitory life or extracurricular activities. Students gain insight into the curriculum, majors and the process for applying for financial aid and scholarships. It is basically the whole gamut of everything a student needs to have to make a decision on whether or not it's the right fit."
Students can access the entire college presentation schedule and sign up for any school on the Academy Family Connections, previously called Naviance, web site.
Senior Wei Yi Huang said, "I recently attended Loyola Marymount University's presentation because I'm interested in the business field, and I wanted to learn more about what they had to offer me. I was able to speak to the admissions officer and I now have a better understanding of their standards and what kind of students they are looking for."
By the end of the school year, over 90 colleges and universities, including Pepperdine University, the University of San Francisco, the University of Hawaii, Boston University and Pacific University, will have visited the campus.
Fong said, "Not only mainland schools come here, but also local schools do as well. We even have representatives from foreign countries, such as Japan, who will visit us. We're very fortunate that the Academy is on the radar with many mainland colleges and universities that they want to come and talk to our students because they like the quality of our applicants."
About the Writer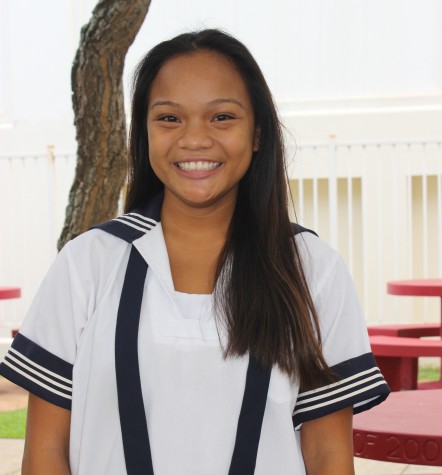 Janelle Medrano, Editor-in-Chief
Janelle Medrano is a senior and a third-year member of the Ka Leo staff. She enjoys dancing, hiking, snorkeling, and pogo-sticking. In her free time, Janelle...