Students gain college experience during summer
Janelle Medrano, Reporter
August 27, 2015
Hang on for a minute...we're trying to find some more stories you might like.
Six Academy students earned college credits for their participation in the Summer Scholar Program at the University of Hawaii at Manoa. Students attended classes daily from 10:30 – 11:45 a.m. during the six-week period.
Seniors Janette Bow-Keola, Mabel Cheng, Risa Hayashida and Malia Libby enrolled in Chemistry 161. In addition to the lecture class, labs were required  on Tuesdays and Thursdays from 1:30 – 4:30 p.m.
Libby said, "I had participated in the Summer Scholar program after my sophomore year, so I thought that it would be a good idea to give another class a try. My favorite memory from this experience was participating in the labs. It was difficult, but I had the best TA. The other students' reactions to how young we are were so hilarious since most of them are in their early twenties."
Junior Suzanne Tsukenjo took English 100, the introductory class to upper level English classes.
Tsukenjo said, "I decided to take an English class during the summer because when I'm off to college I want to focus on my major, which is medicine, instead of wasting my time with the prerequisites. During this program, I was able to earn a solid A and even build connections with many of the students."
Junior Raelynn Chu enjoyed learning more about astronomy and science during her time in Astronomy 110.
Chu said, "In the middle of June, our class had a star party in Kapiolani Park. I was able to see Saturn, Venus and even a galaxy through a telescope. It was really cool because we were able to see a lot of stars despite the urban setting. During this experience I was able to apply what I learned in class and have discussions with other astronomers whom my teacher had invited."
Through enrollment in a regular college course, students experienced the life of a college student.
Libby said, "College classes are so strange because no one is there to monitor your attendance. Students come to class late, leave early or don't even show up. At one point attendance was only around 35 percent. It's ultimately up to students to be responsible for how they learn. From my experience, I definitely have a clearer understanding of what a college course is like and what I should expect for future classes. I was able to gauge how prepared I am for when I go off to college next year."
Chu said, "Although my classmates and teacher knew that I was a high school student, I was treated like a college student and got the chance to experience college life — using my student ID, purchasing food from Campus Center, taking tests and completing homework assignments. Since I really enjoyed my experience at UH, I'm definitely considering taking another class next summer!"
About the Writer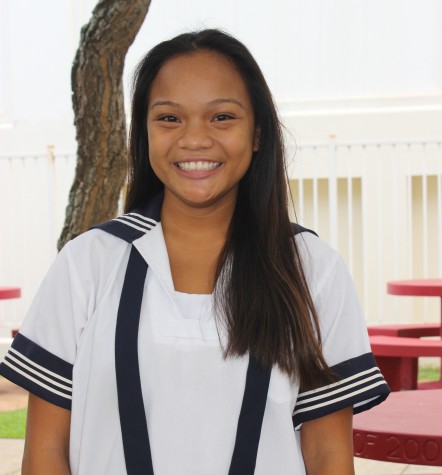 Janelle Medrano, Editor-in-Chief
Janelle Medrano is a senior and a third-year member of the Ka Leo staff. She enjoys dancing, hiking, snorkeling, and pogo-sticking. In her free time, Janelle...