Academy RWDC team competes in Washington, D.C.
Janelle Medrano, Reporter
November 10, 2014
Hang on for a minute...we're trying to find some more stories you might like.
The Academy Real World Design Challenge (RWDC) team, Lancer Aviation, took first in the State competition and will now represent Hawaii at the National Competition in Washington, D.C.
Team members include juniors Aimee Pak, Theresa Ginter and Mid-Pacific junior Ellia Bower, a former Academy student on last year's team.
Adviser Deborah Kula said, "It has been a phenomenal task for our three Lancer aviators to take over the enhanced national challenge without sustained help from the five members who have graduated from the Academy."
Every year the team is asked to address a challenge that confronts our nation's leading industries. Their challenge focused on the issue of production and the availability of food. The team was to design an Unmanned Aerial Vehicle (UAV) that could detect a European Corn Borer in an Iowa cornfield. The team was also required to create an Engineering Design Notebook that discusses the research process and the unmanned aerial system.
Ginter said, "Instead of detecting the bug itself we decided to design a sensor that could detect the damaged crops in the five by five field. In addition to that we also had to create a business plan about the process of creating it, who was needed, figure out what the span was going to be and even discuss how much the salary will be. We spent a lot of hours finishing the Notebook and our presentation for nationals. The process was very long but it will definitely be worth it."
The team will compete in the National Challenge Event on Nov. 13-17 where they will present their project to a judges panel of engineers, FAA administrators and government officials. Ginter and Pak will miss three days of school.
About the Writer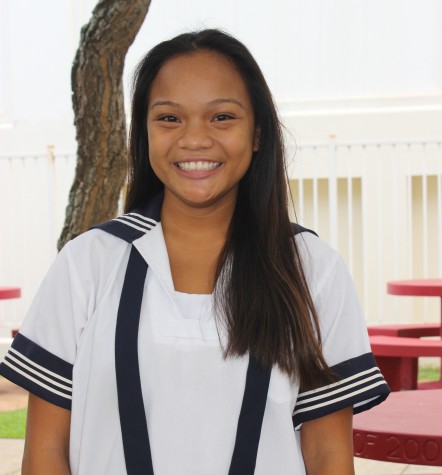 Janelle Medrano, Editor-in-Chief
Janelle Medrano is a senior and a third-year member of the Ka Leo staff. She enjoys dancing, hiking, snorkeling, and pogo-sticking. In her free time, Janelle...