Communication essential for good learning environment
Janelle Medrano, Reporter
November 3, 2014
Hang on for a minute...we're trying to find some more stories you might like.
Good communication between students and teachers is important in providing a healthy learning atmosphere for a class.
Junior Erica Nishi-Bantolina said, "I learn better during class when I have a good relationship with my teachers because I'm more willing to ask them questions. If I don't have communication with my teachers, then I'm sort of lost during class and not fully sure of my work."
Junior Nia Fernandez agreed. "Having good communication makes it easier for me to understand what I'm learning in class because I'm not afraid to talk to my teachers and ask for help."
Communication is important for knowing what needs to be done. Students can misinterpret their assignments because of poor communication.
Spanish teacher, Sean Rist, said, "Communication between teachers and students is important in order to be on the same page with one another. If we aren't thinking or talking about the same thing, then we won't be able to understand each other clearly. You know that there is good communication when students participate during class and know what and when the assignments are due."
Although teachers repeatedly tell their students that they are always open to discussion whenever they need help, communication with teachers is not always easy.
Junior counselor, Anna Miyashiro, said, "I've noticed that there are many assertive students who approach their teachers with their concerns. Those teachers definitely encourage this open communication. However, I also noticed that there are some girls who don't know how to approach their teachers. It may be because they feel intimidated by their teacher or that they are afraid that if they say something, it may affect their grade. If students are afraid to speak to teachers I always tell them to practice what they're going to say before approaching their teachers because it's always good to be prepared. Another way to communicate with your teacher is by going with a couple of your friends for some support so that you don't feel as nervous.
"When I speak to students and encourage them to say something to their teachers, they come back and say that it wasn't that bad at all. As long as students try to communicate, they may get the results that they want. Teachers are here to serve the students. We can improve communication by helping them to gain the skills so that they can advocate for themselves in a positive way. Students should not be aggressive or passive but be assertive in what they want to say and how to communicate in a tactful way," said Miyashiro.
About the Writer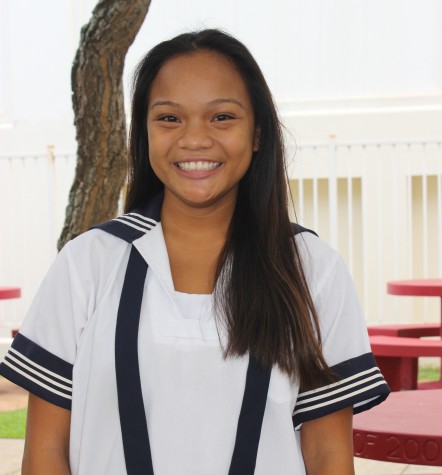 Janelle Medrano, Editor-in-Chief
Janelle Medrano is a senior and a third-year member of the Ka Leo staff. She enjoys dancing, hiking, snorkeling, and pogo-sticking. In her free time, Janelle...