Student directors present 'A Night of Fairy Tales'
Kyle Kakuno, the director of Sacred Hearts' recent play, "Little Mermaid," conducted a student directors' internship program for Academy students to learn how to be directors and actually put on a play.
The show, "A Night of Fairy Tales," includes many traditional stories such as "Cinderella," "Puss in Boots," "Rumpelstiltskin" and "Hansel and Gretel."
Student directors include seniors Paris Johnson and Rachel Rapoza, sophomores Nicole Yamada and Breeana Wolff and freshman Maya Waldrep and Celina Ma. Academy students performing in the production are seniors Shelby Ford and Baylie Caires, junior Madilynne Wiggins, sophomores Mikayla Sweitzer, Jacklyn Sakamoto and Angelyn Tabalba and freshman Shannon Domingsil.
Participation in this program provides an opportunity for students who like the performing arts.
"I wanted to direct because I wanted to see the other side. Rather than being an actor, I wanted to be in the director's shoes," said Rapoza who has acted in school productions of "Aida" and "The Little Mermaid" under Kakuno's direction.
"This Director's Internship allows me to stay involved with acting because I was not able to do the spring show this year. I am also able to get to know Mr. K on a personal level and learn everything I possibly can before I graduate. I appreciate Mr. K's guidance," said Johnson.
"I really appreciate the support from the directors and castmates. It's great that I was given the opportunity to be a part of this play. I am looking forward to playing my characters with a lot of enthusiasm. I can't wait to hear everyone's laughs," said Domingsil.
The resulting performance will be on Apr. 27 in the Academy auditorium at 6:30 p.m. Reserved tickets are $3 and can be purchased by contacting specialevents@sacredhearts.org or at the box office on the night of the performance.
Leave a Comment
About the Contributor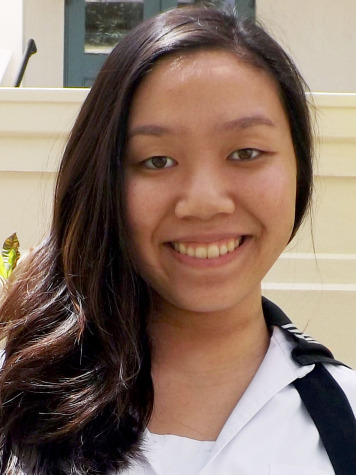 Victoria Chang, Reporter

Victoria Chang is a teacher's assistant at Punahou Dance School, teaches dance at the Performing Arts Center of Kapolei and is a member of the National...