Drive-ins in Hawaii still prove popular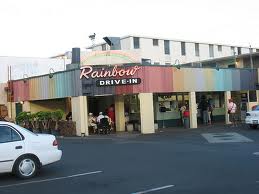 The popular Food Network show, "Diners, Drive-Ins' and Dives," shines the spotlight on local favorites around local favorites around the country. The popularity of such restaurants comes from the comfort foods they provide as well as newer inventive creations.
In Hawaii, drive-ins have always been recognized as a convenient, inexpensive way to get a good meal. The concept of the drive-in began before World War II. The height of its popularity was in the 1950s, and although drive-ins are no longer found in every neighborhood, it's still the place to go for many.
"Drive-ins here have local food that may not appeal to people from the mainland like Hawaiian food or spam musubi," said junior Lauren Wedemeyer.
Although popular with locals, some drive-ins have not always been able to continue in businesses. Many older residents remember classics Hawaii drive-ins such as Kapiolani Drive-In (KDI), KC Drive-In, Scottie's, Alex"s and Chunky's.
"I remember some of my favorite foods from these classic drive-ins were waffle hot dogs, shrimp boats, peanut butter shakes and crinkle cut fries. What was really fun and impressive was the car hops that were at KDI, Alex Drive-In and KC Drive-In. Car hops took my order, brought my food on a tray and attached the tray to my car. I could order my food and eat in my car without ever having to get out. Some even had roller-skating car hops!" said Rodney Chang, president of the Parent Board.
Today, the concept of car hops is no longer present in drive-ins in Hawaii although a few still exist on the mainland.
Although Hawaii now has many McDonalds, Burger Kings and Jack in the Boxes, local drive-ins still are the favorite of many.
"One of my favorite drive-ins is Rainbow Drive-In. It serves local food fast and at a reasonable price. Plus, the food is really good," said senior Kami Wakabayashi.
Leave a Comment
About the Contributor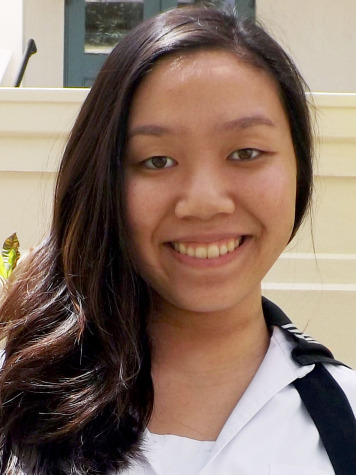 Victoria Chang, Reporter

Victoria Chang is a teacher's assistant at Punahou Dance School, teaches dance at the Performing Arts Center of Kapolei and is a member of the National...