'Land of Oz' comes to Mamiya Theatre
Janelle Medrano, Reporter
October 19, 2015
Hang on for a minute...we're trying to find some more stories you might like.
Sacred Hearts Academy's fall drama production of "The Wizard of Oz" premieres on Nov. 6 at St. Louis School's Mamiya Theatre under the direction of St. Louis director Kyle Kakuno.
The cast features 37 Academy students and seven male performers who have been rehearsing since September.
"The Wizard of Oz" is the story of a young girl's adventures while finding her way back home.
When a tornado hits Kansas, Dorothy and her dog Toto embark on a magical journey through the land of Oz. Along the way, Dorothy befriends a Scarecrow, a Tin Man and a Cowardly Lion. All four travel together seeking the wizard of Oz so that Dorothy can get home, the Scarecrow a brain, the Tin Man a heart and the Lion courage. Misadventure plagues the quartet as they are attacked by evil, including the Wicked Witch of West, flying monkeys and a field of sleep-inducing poppies.
Well known songs, including "Somewhere Over the Rainbow," "We're Off to See the Wizard," "The Merry Old Land of Oz" and "Ding! Dong! The Witch is Dead!" are featured in the production.
Sophomore Alana Glaser has the lead, as young, sprightly Dorothy Gale.
Glaser said, "I was surprised and overjoyed when a group of seventh graders ran to me with the good news of being cast as Dorothy. Theater has always been a part of my life, and I feel that by performing, I am able to tell a story and share a message with the audience. My goal on stage is to touch each audience member in their own way by the end of the show."
Performances are at 7 p.m. on Nov. 5, 6,  7, 13, 14 and 4 p.m. on Nov. 8 and 15.
About the Writer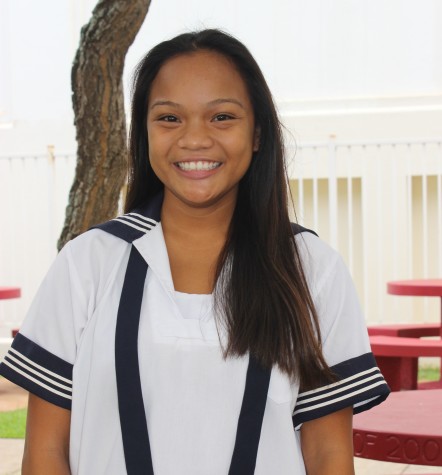 Janelle Medrano, Editor-in-Chief
Janelle Medrano is a senior and a third-year member of the Ka Leo staff. She enjoys dancing, hiking, snorkeling, and pogo-sticking. In her free time, Janelle...