First retreat of the year encourages friendships
Janelle Medrano, Reporter
September 25, 2015
Hang on for a minute...we're trying to find some more stories you might like.
Sixth graders experienced their first class retreat at St. Anthony Retreat Center in Kalihi organized by the Living in Faith Experience (LIFE) team on Sept. 18.
"A Pizza Friendship" was the theme of the retreat where students had a series of sessions and activities to unite them and deepen their faith. Retreat leaders held three sessions focused on trust, keeping peace between classmates and friendship.
Sixth grader Keona Tomita said, "My favorite part of the retreat was the opportunity to make our own skit within our small group that focused on the comparison between a good friendship and a bad one. My small group was really fun, and I'm looking forward to our future retreats."
As they leave elementary school this year, many students are beginning to get a sense of their own identity and learning how to decide right and wrong.
LIFE member and retreat coordinator, Nicole Pagdilao, said, "This was our first retreat of the school year and we were ecstatic at how well the sixth graders reacted to this experience with such open minds. We included three important sayings that we wanted them to take home from the retreat: kill others with kindness; share your bacon, which relates to a skit about sharing; and always be strong because we are sisters."
The retreat activities were effective in reminding students that they should be able to trust and have good friendships with other girls.
Sixth grader Chloe Kwok said, "Since this was my first retreat, I really didn't know what to expect but after this experience I'm excited for our future class retreats. I'm also a new student, and I didn't know some of the girls in my grade and it was just nice making new friends."
About the Writer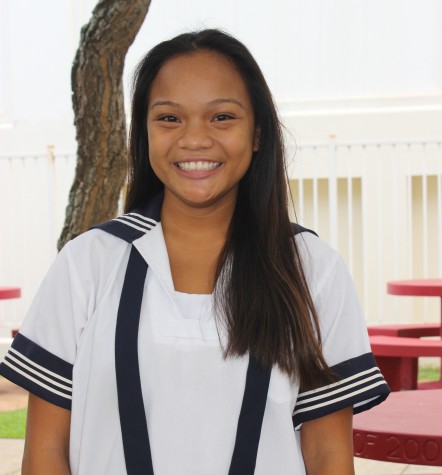 Janelle Medrano, Editor-in-Chief
Janelle Medrano is a senior and a third-year member of the Ka Leo staff. She enjoys dancing, hiking, snorkeling, and pogo-sticking. In her free time, Janelle...