Academy commemorates 106th birthday
Janelle Medrano, Reporter
September 21, 2015
Hang on for a minute...we're trying to find some more stories you might like.
Sacred Hearts Academy celebrated its 106th birthday with activities throughout the week culminating in a fun-filled assembly involving the the entire school.
On Wednesday, the student council presented teachers with a variety of snacks as a way of thanking them for their hard work.
During lunch time on Thursday. students and teachers participated in an activity involving a bungee cord and marshmallows. The objective of the game was for participants to eat the marshmallow that was five feet away while placing a bungee cord between their mouth and nose. The bungee cord was meant to restrain participants from leaning forward, testing their persistency and strength.
Junior Amily Tam said, "The activity during lunch was a bit painful but it was a very fun experience that tested my own strength. Although I had a hard time walking towards the marshmallow [because of the cord],  I was able to motivate myself because I really wanted to test my abilities and of course, eat the marshmallow."
On Friday, the  student council hosted a morning birthday assembly, welcoming the entire school and a few sisters of the Sacred Hearts order.
Lancer cheerleaders started the assembly with cheers and a dance number, pumping up the crowd and showing school pride.
Senior Haylee Bennett said, "I loved it so much because there was so much positive energy being spread throughout the gym while we were cheering. The student council also planned many fun activities for the divisions to participate in during the assembly and that's what really got everybody excited."
During the assembly, a spirit attire contest was held with three categories: most white and gold, most creative and best representation of the Lancer spirit.
Several games involved student participation, including "The Magic Carpet," "Tilt a Cup," and a lip syncing contest and dance.
Senior Nicole Pagdilao said, "The assembly was the best part of the week because it included the entire school community and we got really hyped up to celebrate the school's birthday. I enjoyed the students' lip sync battle, especially when they pulled one of the lower school girls to sing. I thought that it was really cute because it involved everyone. I also enjoyed watching the teachers lip sync and dance crazily because it was very entertaining!"
About the Writer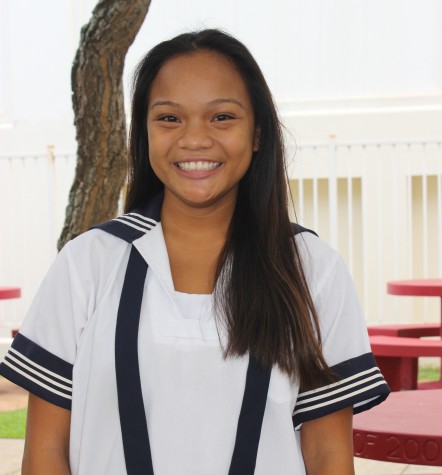 Janelle Medrano, Editor-in-Chief
Janelle Medrano is a senior and a third-year member of the Ka Leo staff. She enjoys dancing, hiking, snorkeling, and pogo-sticking. In her free time, Janelle...