LIFE week demands awareness of water conservation
Janelle Medrano, Reporter
February 6, 2015
Hang on for a minute...we're trying to find some more stories you might like.
The Living in Faith Experience (LIFE) team hosted its first LIFE week with the theme of water conservation to raise awareness of the issue and show the school community how it can avoid wasting this valuable resource.
LIFE member Angela Hesch said, "Since we have been discussing the social justice issue of water conservation ever since last summer and felt that having only one LIFE day was not enough to fully promote our issue, we decided to create LIFE week. Water conservation is a big issue in our world today and I think that we were able to spread the word quite well throughout our school. We had many activities set up for each day."
On Monday, the team coordinated the first LIFE kick-off assembly. Guest speaker Sr. Vandana Narayan from India spoke about the importance of water and how difficult it is to collect this precious resource in many countries around the world today. An activity demonstrated how much water is available to many countries, including the Third World, and how the water is often contaminated.
Junior Noelle Yamamoto said, "I liked the theme of water conservation because people need to realize how much water we waste when there are many countries with a limited supply of water. I also learned that there are many simple ways to conserve water on a daily basis which includes turning off the faucet when we brush our teeth, taking shorter showers and just using water when we actually need it."
On Tuesday, students were invited to the Praise and Worship event in the PAC courtyard during lunch where students pledged to conserve water. Students were also asked to use reusable bottles more often and to bring them to the annual LIFE walk rather than using paper cups supplied by Student Council.
On Wednesday, students participated in a water awareness activity to calculate how much water they use every day. The average person uses about 1,190 gallons each day.
On Thursday, teachers and students in grades 7 through 12 participated in the annual LIFE walk to Palolo District Park where they participated in games prepared by the LIFE team. Students were able to enter the hashtag contest by showing off their best "Speak LIFE" pose and posting it on Instagram with the hashtag #SHALIFEwalk15.
Sophomore Kayla Manz said, "I really enjoyed the LIFE walk since I was able to bond with my classmates and learn about water conservation. In addition, I was able to play a lot of games and be involved in the first annual hashtag contest."
Freshman Kimi Tokunaga also had a good time. "This was my first year participating in the LIFE walk and it met all of my expectations. Although the walk was tiring, it was very enjoyable to play the different games at the park."
About the Writer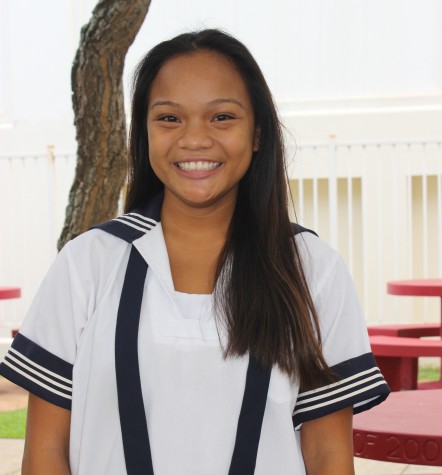 Janelle Medrano, Editor-in-Chief
Janelle Medrano is a senior and a third-year member of the Ka Leo staff. She enjoys dancing, hiking, snorkeling, and pogo-sticking. In her free time, Janelle...