UH visit opens students' minds to science possibilities
Janelle Medrano, Reporter
December 18, 2014
Hang on for a minute...we're trying to find some more stories you might like.
Joseph Lyons' students had the opportunity to see real uses for physics at the UH Physics and Astronomy Open House.
Lyons said, "This event was very beneficial for students because they were able to experience some hands-on physics and see some of the current research that is being done in the field. Students attended four demonstrations covering various subjects and then watched a movie called 'Particle Fever' about the discovery of an atomic particle called the 'Higgs Boson.'"
Dark matter and nanotechnology were among the subjects of the day. Students participated in various activities relating to momentum, magnetism, light, balance, sound and gravitational acceleration.
Junior Isabel Yeoh said, "The nanophysics section interested me the most because I learned about many different carbon structures, including graphite and graphene. Graphene is an amazing new discovery because it is stronger than a diamond, lightweight and nearly transparent. In the future, scientists are hoping it can be used for bulletproof armor for soldiers, safer or more effective forms of transportation, stronger buildings, a filter for water and much more. This type of innovation through nanophysics could really change the world and excites me to become more involved in the field of physics."
Students rode a hoverboard and engaged in an activity called Galileo's Paradox where they constructed a device to demonstrate how gravity works in pulling things down at different angles.
Senior Jennifer Pang said, "It was really fun to attend this event because I got to play with a lot of physics gadgets. I learned that the universe is made up of only about five percent of matter we can see and the rest is dark matter and dark energy. It was a great experience because I didn't know much about what the universe is composed of but I now have a better understanding."
About the Writer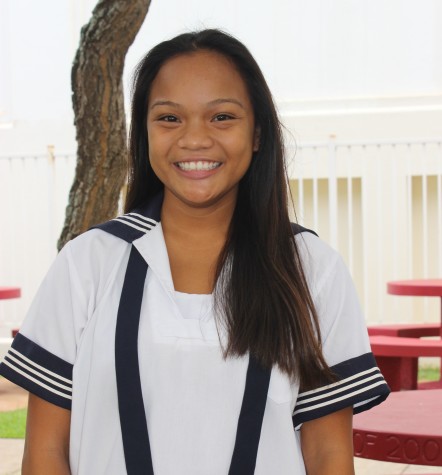 Janelle Medrano, Editor-in-Chief
Janelle Medrano is a senior and a third-year member of the Ka Leo staff. She enjoys dancing, hiking, snorkeling, and pogo-sticking. In her free time, Janelle...