Second graders learn about life cycles at Marine Center
Janelle Medrano, Reporter
October 14, 2014
Hang on for a minute...we're trying to find some more stories you might like.
The second grade classes took a trip to the Living Art Marine Center to learn about the life cycles of fish and participate in activities related to their science curriculum.
Second grade teacher, Jolene Yoshioka, said, "Prior to the field trip, the second graders were studying the life cycles of various animals, including turtles and butterflies. By visiting the Marine Center, students were able to learn about the life cycle of marine fish through the center's baby fish catch and release program."
Students participated in an interactive presentation where they had to collect and organize data in the "Baby Fish Scientist" game.
Students observed and learned about various tropical fishes.
Kamryn Nguyen said, "We learned about sea animals and how fishes protect themselves. Some fishes can spread their fins to scare off enemies, and some have special horns on their heads."
Sadie Takakai said, "I learned how fishes and eels can camouflage themselves in the sand."
Riko Sakai said, "I learned that fishes can give birth to 1,000 babies, but only about ten will survive."
Students enjoyed the tide pool tanks, where they were able to look at and touch hermit crabs.
Sakai said, "I really liked the tide pool tanks. I touched the clams, hermit crabs and starfishes, and a shrimp even crawled over my hand!"
Students could also screen their own souvenir t-shirts. Teachers brought back opae ulae shrimp as new classroom pets.
Yoshioka said, "We thought the field trip was successful! The program was very educational, and we will probably schedule another visit to the Marine Center next year."
About the Writer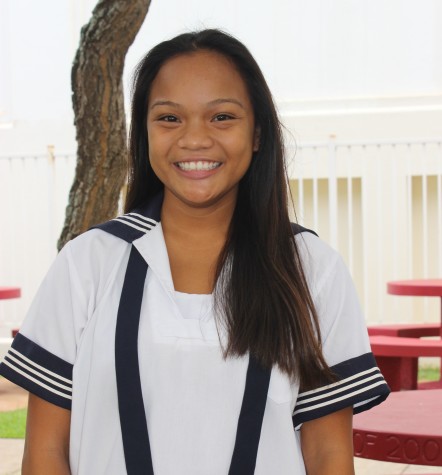 Janelle Medrano, Editor-in-Chief
Janelle Medrano is a senior and a third-year member of the Ka Leo staff. She enjoys dancing, hiking, snorkeling, and pogo-sticking. In her free time, Janelle...