Senior wins STEM award for robotics
Janelle Medrano, Reporter
September 18, 2014
Hang on for a minute...we're trying to find some more stories you might like.
Senior Kristen Kate Tumacder received this year's Pearl Harbor Naval Shipyard (PHNSY) Science, Technology, Engineering and Mathematics (STEM) Award for her participation in robotics.
In conjunction with the National Defense Education Program (NDEP), PHNSY and Intermediate Maintenance Facility (IMF) recognizes high school students who have demonstrated a dedication to the STEM fields.
In order to qualify, the applicant must be in good academic standing and have actively participated in FIRST Robotics Competition (FRC) for at least one full academic year. Tumacder qualified for the award because of her participation in FRC for the past three years.
Tumacder was surprised but pleased when she received an email informing her that she had won the award.
Tumacder said, "Before reading the announcement, I was really anxious because I thought my phone interview with the selection panel wasn't that good. However, in the end, it was really rewarding to know that I had qualified!"
With NDEP funding, ten $2,000 awards are offered this year. 2014 graduates, Angela Wong and Dominique Dold, previously won these awards.
Tumacder plans to major in computer engineering or a computer-related degree in college. She also plans to minor in Journalism if the college she attends offers it.
Tumacder said, "My future goals are to work for technology-based companies, such as Google or Apple, or if the opportunity comes, I would like to own a technology based company."
About the Writer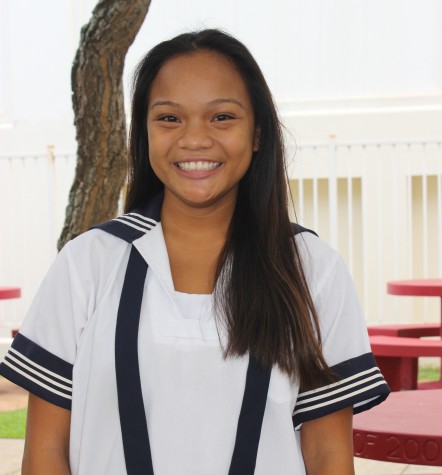 Janelle Medrano, Editor-in-Chief
Janelle Medrano is a senior and a third-year member of the Ka Leo staff. She enjoys dancing, hiking, snorkeling, and pogo-sticking. In her free time, Janelle...