Junior gains new perspectives on different religions at Interfaith camp
Janelle Medrano, Reporter
September 4, 2014
Hang on for a minute...we're trying to find some more stories you might like.
Junior Risa Hayashida participated in a week-long Interfaith Immersion Leadership Camp in Albuquerque, New Mexico, from July 31 to Aug. 4. The program is for teens with different religious backgrounds who want to learn about other faiths.
This program was founded by Shinnyo-en, which is the Buddhist sect that Hayashida embraces. The goal of the trip was to allow teens to nurture their spiritual awareness, create new friendships and build peace.
Hayashida visited many nonprofit organizations and participated in many service projects. She also viewed religious sites, including San Miguel Mission Church, Yogi Bhajan Ashram in Espanola and Temple Beth Shalom, to develop a better understanding and appreciation of the different religions.
Hayashida also had the opportunity to visit the Middle East Peace Camp and meet with Palestinian and Israeli youth who shared stories about their war experiences.
"It was an experience for me to listen to the stories of the girls from Pakistan and Israel who are now experiencing war. It hit me really hard when they talked about living in a place where you have to worry about your life. After listening to them, I was glad to live in America. The only worry I have is getting good grades and finishing up homework. We teens complain about every little thing that we find unpleasant, but the girls there have to worry if they will live the next day. They hear the alarms and the sounds of destruction with horror while we go on our computers. It made me reconsider my life and how significant peace is. "
Hayashida realized that the definition of peace for each person is different. Hearing stories from the Pakistani and Jewish girls, she was shocked to hear that they worried about being killed.
"I think we are oblivious to what peace actually means because living in America is quite peaceful. To the girls in Pakistan and Israel, peace means much more than being happy. To them, peace means getting rights and doing things that teens are supposed to do. To them, peace was all that they strived for," she said.
"From participating in the week long Interfaith Camp, I was able to contemplate our lives and realize that the lives we live are significant. We live normally and we might think it's boring because it's so ordinary. However, to others around the world, our boring ordinary life is special and something that they crave. We should understand that living normally is a gift, a very special gift. We should treasure each day as an event because who knows what could happen to us one day. Normal is special, peace is strong, friendship is a bond, religion is faith and love is unity," Hayashida said.
About the Writer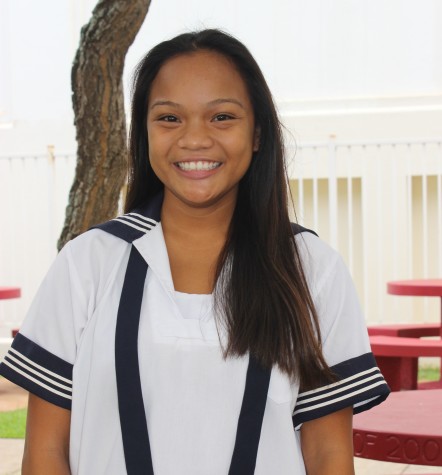 Janelle Medrano, Editor-in-Chief
Janelle Medrano is a senior and a third-year member of the Ka Leo staff. She enjoys dancing, hiking, snorkeling, and pogo-sticking. In her free time, Janelle...