Senior chosen second runner-up in Distinguished Young Women Scholarship Program
Hang on for a minute...we're trying to find some more stories you might like.
Senior Shannon Domingsil represented Sacred Hearts Academy in this year's Distinguished Young Women (DYW) Scholarship Program, a national program for high school girls that promotes and rewards scholarship, leadership and talent.
A panel of judges evaluated and reviewed participants' high school transcripts and test scores. Points were awarded based on interview (25 percent of overall score), talent (25 percent), scholastics (20 percent), fitness (15 percent) and self- expression (15 percent).
Named second runner- up, Domingsil won a $2,250 cash scholarship and a $12,500 tuition scholarship to Hawaii Pacific University.
Domingsil said, "I am extremely grateful for this experience because I have learned so much about my potential, and the mock interviews and training we had gave me so many more skills that I will use in the future. I am happy that I met 23 amazing, talented young women from schools across the island."
Domingsil began preparing for the competition three months in advance. Training for the actual program included rehearsals, mock interviews and fitness training.
"At first I didn't want to participate in this competition because it took up a lot of time and it was tiring, but as we kept getting closer to the actual day I became very excited. All of the participants began to bond so well and we were all so incredibly supportive of each other and constantly cheered each other on because even though this was a competition, we were all winners and they all deserved to win."
Iolani senior Amy Uehara was selected the state winner who will compete in the national finals in Mobile, Alabama.
Domingsil said, "There were so many great memories and one of the best ones happened when everyone gathered in the middle where we met for a group hug and we all just started crying tears of joy. It was such an amazing moment because not only were we proud of our winner, we were all so proud of ourselves because after all of our hard work we finally did it. We finally performed and the months of preparations that led up to this moment made it all worth it."  
The event was held at the Salvation Army Kroc Community Center in Kapolei on Jan. 18.
About the Writer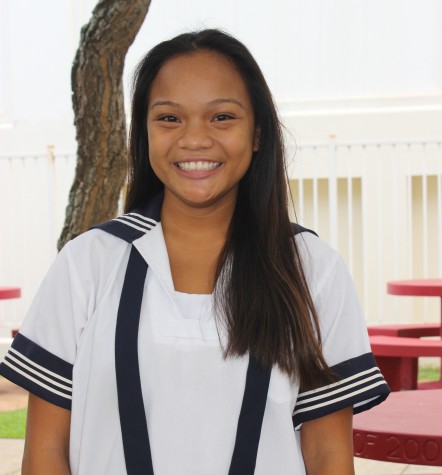 Janelle Medrano, Editor-in-Chief
Janelle Medrano is a senior and a third-year member of the Ka Leo staff. She enjoys dancing, hiking, snorkeling, and pogo-sticking. In her free time, Janelle...