Language students begin new year with Japanese tradition
Hang on for a minute...we're trying to find some more stories you might like.
Japanese language classes began the New Year with writing calligraphy, a popular tradition for many students in Japanese elementary schools.
In ancient Japan, Jan. 2 was called "Kotohajime," which means to begin the New Year activities. On this day the Japanese did "Kakizome," the first writing or drawing of the year as a wish to greatly improve their writing and drawing. On paper they wrote their New Year resolutions or a word related to the New Year.
Japanese teacher Nami Grafia said, "This tradition spread to ordinary citizens of Japan and became the common practice of doing calligraphy during the New Year season. This tradition is giving a role to Japanese calligraphy in our modern society. Calligraphy practice helps us to deepen the understanding of how Japanese characters are made and how to write the characters properly. It is also great practice for patience and being calm and focused."
Academy students carefully wrote the "morning of New Year's Day" in kanji which was then posted in classrooms. Afterwards, students voted for the "most authentic." The winners were juniors Ellena Igari and Amily Tam and freshman Ferrari Hiraga.
Igari said, "We learned how to write traditional Japanese calligraphy with the proper strokes. I enjoyed doing this activity because it was my first time writing calligraphy and I was really surprised when I placed first for most authentic."
Photo credit: Nami Grafia
About the Writer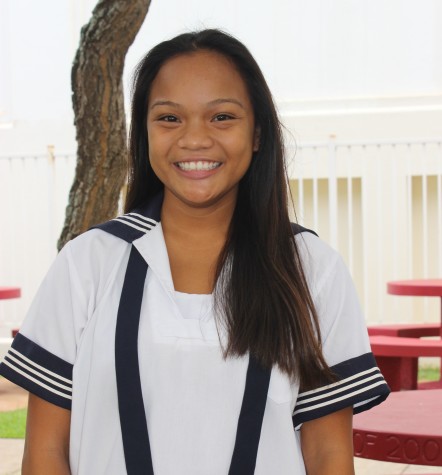 Janelle Medrano, Editor-in-Chief
Janelle Medrano is a senior and a third-year member of the Ka Leo staff. She enjoys dancing, hiking, snorkeling, and pogo-sticking. In her free time, Janelle...