Taking on the channel
Hang on for a minute...we're trying to find some more stories you might like.
It was at 6 a.m. on a bright Friday morning when my alarm went off, and I couldn't have been more excited. While my friends and fellow classmates were just about ready to make their morning commute to school, with a single bag in hand, I walked across an airplane runway to the tiny nine-seater plane bound for Moloka'i, home to the annual Na Wahine O Ke Kai womens distance paddling race.
Ever since I was 10 years old, it was my dream to paddle in the Na Wahine O Ke Kai, as that's when I found a love for canoe paddling. Every year I was able to watch the women in my family and the many other brave souls who were willing to cross the 42-mile Ka'iwi Channel race train and ultimately compete in the race that made a true paddler. After seven years of rigorous training during the summer and school, I realized this year, it's my turn.
When I walked into the Moloka'i airport, I thought, "This is actually happening, I'm actually here," as I saw my fellow crew members waiting for me in the front. "I'm going to finally cross the channel."
As soon as everyone was gathered, we took all of our things and headed out to a small neighborhood just outside of the city's main town. I, along with a few other girls, were quick to claim spots on the two queen-sized beds, knowing that a good night's rest would play an important role in our race. Over the next couple of days, we explored the island and were able to visit the island's iconic landmarks, such as, Kalaupapa lookout.
It wasn't until Saturday's sunset, as we gathered outside to take group pictures, when we looked at each other and realized, tomorrow, the ultimate goal of our paddling careers was going to happen.
We all rushed into the house, bumping into each other in the halls, tripping over clothes scattered across the floor and sweating despite the 60-degree breeze blowing through the jealousies as we prepared for the race. An hour later, the house was silent and in the living room sat 12 girls, dressed in compression pants and long sleeved jerseys waiting for what to do next. Our coach gave us a pep talk that was comprised of a few phrases of, "Try your best," or "As long as you have fun is all that matters," but we all knew he meant. "Win."
The next morning started before the break of dawn, the scattered clothes–packed and the once busy hallways– empty. We looked back at the house, as we started the almost hour-long journey to the Hale O Lono Harbor, where more than 60 canoes were being held, ready to conquer the great blue. Rather than excitement and happiness to be there, our faces were solemn. As we prepared our canoe and loaded our things onto the escort boat, we began to relax as other crews smiled and cheered us on to do our best, but I remained unphased.
As I began to walk towards the escort boat, a familiar face appeared in front of me, an aunty from my previous paddling club recognized me and gave me a big hug. My mood lifted as she smiled and told me, "Rebecca, you go out there and paddle your hardest." This time when I walked away, I walked with confidence as I boarded the escort boat and headed out to the start line.
The next six and a half hours were the most challenging hours of my entire paddling experience, as I battled heat, hunger, fatigue and motion sickness. At times, I was conflicted as to whether or not I wanted to be in the canoe paddling or in the escort boat resting as being in the canoe meant more physical pain, while being on the escort made me sick to my stomach. I found moments of relief between the two, as I treaded water, waiting for the canoe to come, so that I could relieve the girls who were paddling.
As I paddled, numerous thoughts ran through my mind, as I had to challenge myself to do my best. "Think of everyone waiting for you at home; this is what you've dreamed of for seven years. Don't give up now."
I pushed myself for each 15 to 45-minute piece that I paddled. Everytime the escort boat came next to us to call the next change, a part of me wanted to be called out so that I could take a break, but another part of me longed to stay in, as I wanted to keep going and cross as much of the channel myself as I could. When I eventually was called out, a feeling of relief washed over me, and no, it wasn't just the cool salt water that enveloped around me, as I jumped out of the canoe, but the feeling of relaxation; the rough swells, somewhat calming as I furiously kicked to keep myself afloat.
The moments of relief were quickly replaced with struggle as getting back on the escort boat required us to drag ourselves along a rough yellow rope to the back of the boat. Then to hoist ourselves onto the deck was a whole-nother feat. As soon as we regained our composure, we dove straight into the cooler, which contained, energy bars, Gatorade, water, snacks and other supplements so that we could be prepared for our nest piece. Our supposed 15-20-minute breaks felt like five minutes as right when we began to relax after devouring our snacks, our coach was calling the next change.
The next few hours of the same routine dragged on and for the most part, land, barely in sight. It wasn't until the four-and-a-half-hour mark when we neared Diamond Head. With finishing the race in mind, we all drew out whatever energy we had left to show the coach who was worthy to finish the race. As only six of us could cross the line in the canoe, we set out to show our coach that we were strong enough to do so. I sat in the escort boat as we neared the Hilton Hawaiian Village Lagoon, anxious for our coach to call one more change.
Just as I thought we were done switching and that I wouldn't get to finish the race, he came to us saying, "Alright, this is our last change," as he looked us in the eye and said, "Finish it." I jumped off of the escort boat one last time and as the canoe came nearer to us, I thought of my aunty's words, "Paddle your hardest." Before I knew it, I was back in the canoe, the last of my many caffeinated snacks and sugary drinks beginning to kick in.
The last leg of the race was undoubtedly the hardest, as I gave it everything I got until the very moment we crossed the finish line. As we crossed, the announcers called out everyone in my crew, my name, the very last.
The feeling of relief and accomplishment filled within me, as I dug my feet into the sand and was met with the smiles, hugs and tears of my family and friends. When we found out the results, we learned that we came in second for our division, which was disappointing, but nevertheless, a great accomplishment in our books.
This race not only made me a true paddler, but it brought me even more closer to the sport I love and the people I love doing it with. For the last time of the season, my crew and I linked our sweaty arms together and pulled each other close for a group picture. The last thought that ran through my head was, "I did it, I became a true paddler and crossed the channel. And I did it with these amazing ladies."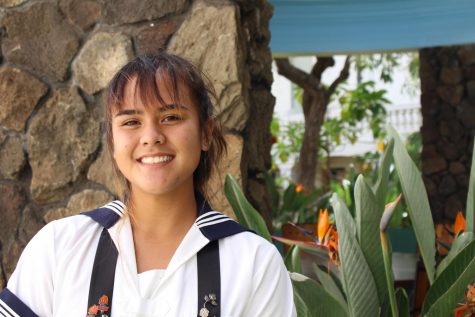 Rebecca Meyer, Features and Sports Editor, Reporter
Rebecca Meyer is a senior and third-year Journalism student. She is also the Features and Sports Editor. Being a journalist to her means being able to...