Ballistic missile threat sends Hawaii into a state of fear
On Saturday, many Hawaii residents woke to a ballistic missile threat alert, which was sent to their mobile devices by Hawaii's Emergency Management Agency. About 30 minutes later, another alert was issued, stating that the threat alert was an error and that there was no danger to the state.
Gov. David Ige and the head of Hawaii's Emergency Management Agency said the "threat button," as it was called, was pressed accidentally. The mistake was blamed on human error.
"It was a terrifying way to wake up. My little sister and I were both asleep when the alarm first sounded and at first we were both just confused," Sacred Hearts Academy senior Taylor McKenzie said. "My mom was going to drive (my family) to the military base after receiving the message."
Residents would have had 15 minutes to take shelter once the alert was issued, according to the Hawaii Emergency Management Agency.
The first alert read, "Ballistic missile inbound to Hawaii. Seek immediate shelter. This is not a drill." The second alert said, "There is no missile threat or danger to the State of Hawaii. Repeat. False Alarm."
For many students, the alarm was a frightening disruption to weekend activities.
Junior Rebecca Meyer was at a canoe paddling race at Magic Island when the first alert was issued.  
"I was in the middle of going out to my race and all of a sudden all the paddlers were getting out of the canoes and climbing out of the water. It was so surreal to see everyone running," Meyer said. "Some of my friends were being grabbed by their parents."
Approximately 30 minutes after the false alarm was sent to mobile devices, both local and national news outlets released more information on the false threat. Hawaii News Now was one of the first local news organizations to reveal that the alert was false. State officials such as, House Rep. Tulsi Gabbard took to social media to inform the public that there was no missile threat to Hawaii.
News of the threat pervaded Twitter and many other social media services. Many Hawaii residents were trying to find shelter, believing that it was not a test.
Many Hawaii residents were trying to find shelter, believing that it was not a test. They were upset with how long it took for the state to correct the error.
About the Writer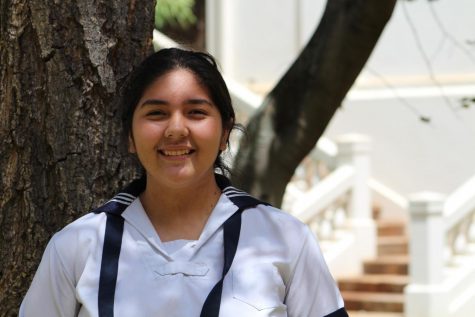 Shelby Mattos, News Editor, Reporter
Shelby Mattos is a senior and third-year Journalism student. She is the Publicity Chair for Division Council and participates actively in the Academy's...