Video Production students learn from the pros
Ever thought about what it's like to be a news anchor?
Students from Sacred Hearts Academy's Video Productions/News Broadcast class were able to find out during a trip to Hawaii News Now on Wednesday.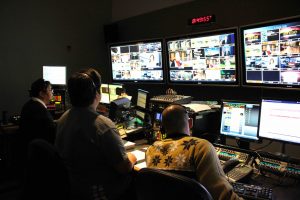 During their visit to the station in Iwilei, they toured the newsroom and observed the filming of the station's "Sunrise" morning show. The group sat quietly on the side, just several feet away from the anchors, who were reporting on that morning's current events and providing hourly traffic updates.
For even more behind-the-scene action, the students spent time in the control room. They watched as the show's producer and director navigated through a complicated switch board and numerous television screens presented on the tri-panel monitors in front of them. The producer switched between different camera views–both in the studio and out in the field. That morning, a few of the anchors were reporting live from the Royal Hawaiian Center in Waikiki.
"It was very interesting, as they (taught us) things we could use on The Lancers Lately," sophomore Mikayla Lancaster-Hoover said.
The Video Productions/News Broadcast class produces the Academy's bi-weekly newscast, The Lancers Lately. Lancaster-Hoover assists with scriptwriting, filming and producing.
In addition, the students were able to chat with "Sunrise" anchors Grace Lee, Steven Uyehara, Lacy Deniz and Mileka Lincoln. The anchors talked about the industry and gave them advice on everything from–teleprompter reading to on-camera delivery.
"I think we all left feeling a little bit inspired after the experience, especially me, as their teacher," said teacher Alyssa Myers. "I'm always trying to provide my students with every learning opportunity possible because I want each of them to succeed and experience film outside of the classroom."
To top off the eventful experience, the students were featured at the end of the newscast and were introduced by the anchors.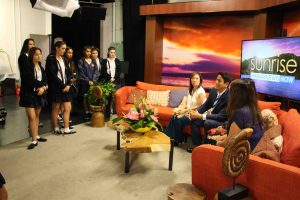 Last semester, the class toured the "Hawaii Five-0" set near Diamond Head. In a few weeks, they will be viewing a filming of "Hawaii Five-0" on the Academy's campus.
About the Writer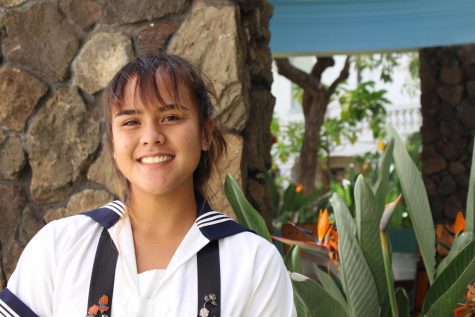 Rebecca Meyer, Features and Sports Editor, Reporter
Rebecca Meyer is a senior and third-year Journalism student. She is also the Features and Sports Editor. Being a journalist to her means being able to...