The Academy marches toward women's equality
Walking hand-in-sign last weekend, some members of the Lancer community took to the streets to march for women's equality. They joined thousands across the nation in what became known as the Women's March.
According to its organizers, the Women's March's vision is to "stand together in solidarity with our partners and children for the protection of our rights, our safety, our health, and our families–recognizing that our vibrant and diverse communities are the strength of our country."
Sacred Hearts Academy teacher Chloe Smith attended the march in the hopes of making a positive mark on history.
"I felt it was an incredible opportunity to be a part of something big," Smith said. "Standing up for women's rights and equality is something I am very passionate about, and I didn't want to miss the opportunity to be involved in something so historical."
The Women's March began when Teresa Shook, a resident of Hawaii, took to Facebook the night of Election Day. She called for a "march on Washington," according to the Los Angeles Times.
The Oahu march took place at the Hawaii State Capitol and saw many participants, including men, such as singer Max Schneider. He rallied alongside his wife during their visit to the islands.
The march began at 10 a.m. and concluded with a rally that featured entertainment, speakers and informational booths.
Smith encourages students, particularly at an all-girls school such as the Academy, to never be afraid to stand up for what they believe in.
"I would encourage (them) not only to march for women's rights, but anything that they are passionate about," Smith said. "If a student feels really strongly about something, (then) a great way to make her voice heard is to get involved in some sort of an organization that supports said cause."
About the Writer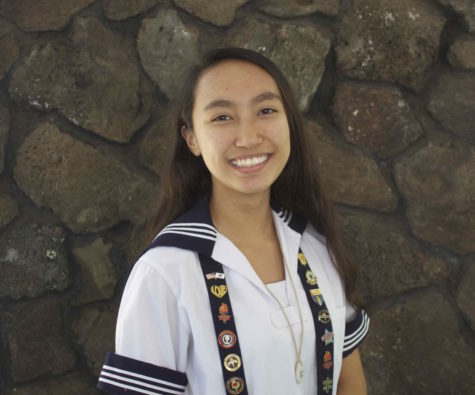 Kailanianna Ablog, Opinions Editor, Reporter
Kailanianna Ablog is a current senior at Sacred Hearts Academy and a third-year Journalism student. She is the president of Korean Club, the Outreach Head...