Big-name artists to perform in the islands
During the holiday season this year, Hawaii music lovers are being gifted with big-name music shows, which are already sold out.
Artists Jhené Aiko, Russ and Chance the Rapper are scheduled to perform on Oahu during the months of December and January.
Aiko's concert will be held on Dec. 27 and 28, while Russ' concert will take place the following day. Both concerts will be at The Republik in Honolulu.
Aiko began her musical career by contributing vocals for R&B group B2K. After a hiatus from music, Aiko returned in 2011 with the release of her first mixtape, "Sailing Souls." She is best known for popular singles "3:16 AM," "Bed Peace" and "The Worst."
Russ is well-known for his works on Soundcloud. His Soundcloud page gained more than 40 million listens since its creation, making him one of the fastest growing artists of the year.
The third big-name artist to make a stop in Hawaii will be Chance the Rapper. Because he is more well-known, his concert will be at Blaisdell Center. The venue can hold hundreds of concert-goers at one time.
Bamp Project, the organization responsible for bringing music to the islands, originally announced Chance the Rapper's first show for Jan. 7, but due to popular demand, a second show was added for the following day.
In May 2016, Chance the Rapper released the mixtape "Coloring Book," becoming the first album to chart on Billboard 200 based on number of streams of the album. "Coloring Book" includes popular song, "No Problem," which is the only song on the album that can be heard on the radio in Hawaii.
"I like the fact that these well-known artists are coming to Hawaii," Sacred Hearts Academy junior Danelle Vicencio said. "I did not want to miss out on seeing these amazing artists perform since they rarely come here. I hope that they inspire other artists to come here as well."
About the Writer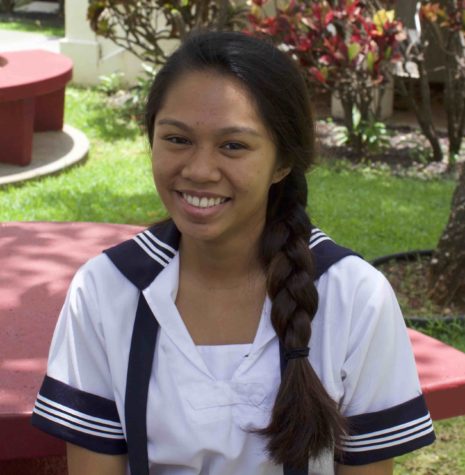 Rochell Ann Agapay, Reporter
Rochell Ann Agapay is a first-year Journalism student and currently a junior at Sacred Hearts Academy. In her free time, Rochell likes to take pictures...