Head-to-toe fall fashion trends
A new school year means new fashion trends amongst students. From accessories to clothing, these trends may not be entirely new, but rather, old ones brought back to the fashion scene. Because students at Sacred Hearts Academy wear uniforms to school, they tend to grasp at every opportunity they can in showing off the latest trends.
A common trend amongst our students are the white Adidas Superstar sneakers. These fitting shoes are seen on a majority of our students as a part of their Friday optional uniform. Students also sport the Kanye West Yeezy 350 Boost running shoes. This athletic alternative come in various colors, including white, black and tan.
In terms of pants, there has been a growing popularity in what is known as "mom jeans." These loose-fitting garments rise to the waist and tend to be rolled up above the ankles. They are an example of trends being brought back into style. The "mom jeans" were most popular during the 1980s and donned by young mothers; hence, the endearing term "mom jeans." Other commonly seen trends include leggings, high-rise denim shorts and light-denim blue skinny jeans.
Loose-fitting blouses are in tight demand this season. Shirts that feature brand names as a part of the design, such as Adidas and Diamond Supply Co, have gained a considerable amount of popularity amongst students. As for the style of shirts, cropped tops and halter tops have been a favorite; many of which have small graphic designs printed on them.
The style of dresses prefered by students has changed since last year. Tight, form-fitting dresses, although still having some popularity, have been replaced by loose knee-length T-shirt  styled dresses. Patterns are scarce on the new craze, but stripes can still be found on some brands. Brandy Melville's Jada dress is a popular choice and includes many different patterns, minimum back coverage and a mid-thigh length.
As for accessories, those that were once extravagant and eccentric have been reduced to simple add-ons meant to compliment an outfit with elegance. Necklaces are now simple, thin chains with small accessories, while the trend of wearing multiple bracelets stacked on one wrist has been replaced with wearing a classic wrist watch instead. Many are seen showcasing these flashy watch faces and leather bands.
About the Writer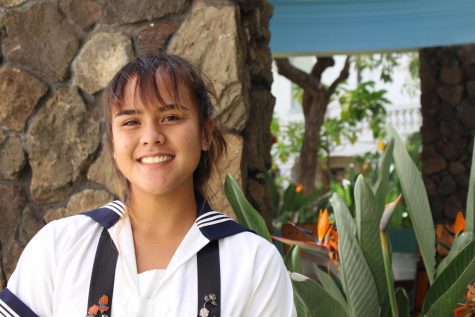 Rebecca Meyer, Features and Sports Editor, Reporter
Rebecca Meyer is a senior and third-year Journalism student. She is also the Features and Sports Editor. Being a journalist to her means being able to...